10 Reasons Why I Homeschool
Featured Member Post
People regularly ask me why our family homeschools. I came up with a list of 10 reasons (there are more) along with a few negatives that sometimes make me question why we homeschool. My kids are currently in third grade, second grade and preschool (age four).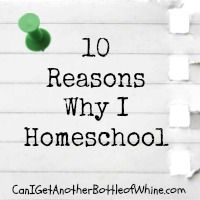 1. I like to learn alongside my kids. I'm gaining so much knowledge from learning what they learn. I have to stay a step ahead of them or at least at the same pace with them and so far, it's been a lot of fun. It's amazing how much I forgot and/or didn't learn in school.
2. I want my kids to enjoy learning. Not that they can't in a traditional school situation, but my personal experience with school, particularly high school, wasn't enjoyable. I remember frequently falling asleep in history class -- face to notebook, drooling on my paper. Had I had the opportunity to read historical fiction to bring history to life, I think I would have enjoyed it a lot more. I think.
Credit Image: Bill Townsend Photography on Flickr
3. I enjoy going on field trips with my kids. When we're studying a particular topic, I look to see if there's anything in our area that we can visit to enhance our learning experience. Or if I know there will be a special exhibit at a museum I might move our curriculum around to align it with the timing of the exhibit. This makes our learning more fun.
4. It helps minimize bullying. I can't watch my kids 24/7 because they still do activities with other kids in the neighborhood and at various lessons, as well as summer camp. But at least there's a better chance of it not happening. When it does happen, it's easier for me to approach the kid and/or their parent personally or remove my child from the situation. My kids attended a camp last summer and one of them was being picked on. After I repeatedly discussed the issue with the camp counselor and got nowhere, I pulled my son from the camp and we didn't go back.
This goes along with being better able to monitor their influences. Again, I can't be there all the time, and who knows how things will go when they're teenagers, but at least now I can more easily manage who their friends are.
5. We don't have to get up early, and we're not tied to a schedule. I recently put my four-year-old in preschool three days a week. Fortunately, school doesn't start until 9:30 am. It's two hours long. This gives me the time to I need to get school done with my older kids and leaves the rest of the day open for us to pursue other activities.
6. I have more control over what my kids learn. Illinois is pretty lenient in what they require of homeschoolers, so that isn't really an issue. The nice thing is that we can spend more time on particular subjects that they might not be able to cover in a traditional school. All my kids were adopted from China, so I like to spend a lot of time focused on China and the rest of the world in regard to geography, history and other cultures. Since they're not in school all day, we're able to devote more time to this.
I can also adjust the way I teach to better match their learning style. I have one child that could sit and listen to me read anything, maybe even a tax form, while my other son is bored listening to me read anything; he wants to be able to touch and experience it all. It makes it easier for my kids to learn when I set up the material to match their learning styles.
7. I like spending time with my kids. I like to watch them learn. I don't feel like I'm missing out on as much. Hold up, this can be a negative too. I'm with my kids all day and all night. Sometimes I need a break more often than I get.
8. We can take vacations in the off-season without fear of missing something at school. It saves a lot of money, and there are fewer crowds. We can also plan our curriculum around our vacation, so if we're planning to go to a particular city or state, we can study that area before going, in hopes that they'll have more interest in it when we get there.
9. I can spend more time teaching them life skills. They're able to spend time doing various chores, yard work, sewing, volunteering, and other things to do with managing a home and improving their lives.
Comments
More Like This
Recent Posts
by Kate Hall
Help protect your family from the transmission of harmful bacteria and viruses! Use Lysol's Full Bathroom Range to remove soap scum, lime scale, and everyday dirt and grime to leave your bathroom smelling clean and fresh.
Read more
Store Brand Formula Reviews
Store brand infant formulas provide the same complete nutrition as name brand infant formulas. See how much you can save and read our bloggers' reviews and see why it is safe to choose store brand formula.