11 things to do in the outfield during a Little League game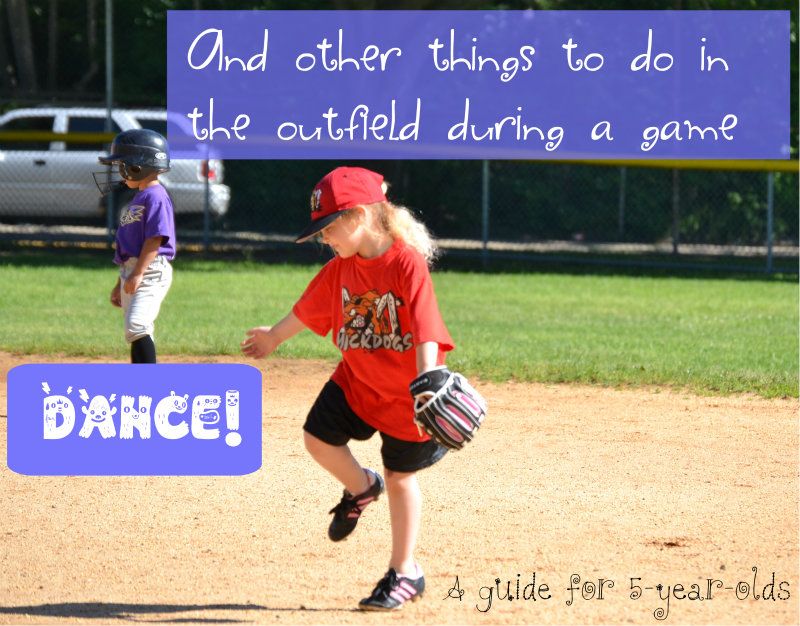 Watching my daughter playing baseball in Little League, I'm always amused at what the children who are supposed to be all "eyes on the ball" are really doing out there. Usually, nothing baseball-related in the least. Now of course, these are 4-, 5-, and 6-year-olds. But they sure do make sitting there for an hour or more a little more entertaining!
11 Things to do in the outfield during little league, a guide for 5-year-olds
Dance
Run around in circles
Draw in the dirt (shapes, letters, it's all good)
Start a rock collection
Talk to each other
Pick up dirt and watch it fall through your fingers to the ground.
Wave to parents...or random people walking by
Pick your nose
Run off the field to tell a parent something important ("I'm bored")
Sit and pick the grass
Toss mitt in the air and try to catch it.
And if all else fails, chase the ball!
What would you add? Have you seen the younger kids do funny things at sports games? Share them so we can all get a giggle!
Related Posts
More Like This
Recent Posts
by PisforPreschooler
All October, you can help support breast cancer awareness by rounding up your JCPenney purchases to the nearest dollar. Contributions will be donated to JCPenney Cares to directly fund programs supporting breast cancer awareness, including The Breast Cancer Research Foundation® and The National Breast Cancer Foundation®.
Read more
Target up & up Reviews & Sweepstakes
Target up & up products include beauty/personal care, cleaning, and baby products. Read our bloggers' posts to find your favorite Target up & up product and get a chance to win a $100 Target GiftCard®!
Recent Comments
on Family