3 Sleazy Pick-up Lines Used by Alarm Salesmen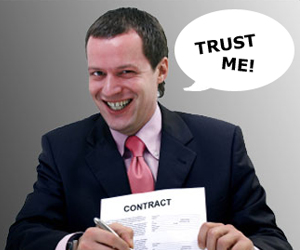 Home security sales agents will pretty much do and say anything to get their foot in your door to sell you a burglar alarm. Learn how to protect yourself from these sleazy sales men with these tips provided by SimpliSafe Home Security.
Remember the days when door-to-door salesmen would knock on your door to sell you some sort of product that you really didn't need or weren't even interested in? It's still a common practice among some home security companies.
(SimpliSafe Home Security will never knock on your door to solicit sales).
While the sun is high and beating furiously down this summer--just as you're sitting back to enjoy a little snooze in the backyard--that's when the doorbell will ring. Why? Because summer is the best time to scare you into buying a "free" alarm that's attached to a $1500 alarm monitoring contract. How? With these misleading and sleazy sales tactics.
"The Pitch"
It's pretty much the same across the board for all door-to-door home security salesmen. They dress smoothly, sometime travel in pairs, and in general will visit a home sometime on a weekday afternoon. This isn't an accident. This is done in hopes of targeting seniors and stay-at-home moms.
Here are some of the lines used to lure you in:
"Hi, we're from "the security company" and we're trying to promote in your neighborhood. We were wondering if we could post our yard sign in front of your home. In return, we'll install this home security system in your home for free! Keep this a secret from your neighbors—just tell them you got a great deal."
"We are working with (your local PD). This neighborhood just had 8 recent break-ins and we wanted to fully ensure your home is safe. May I come in and take a look at your windows? Are there any kids in the home?"
"Your current home security provider has gone out of business and we have taken over all the monitoring contracts, we just need you to sign this new paperwork to ensure your continued service."
"The Close"
Once they're inside your home they'll use a number of tricks to get you to sign a 3 year alarm monitoring contract with them. A common scare-tactic used amongst door-to-door home security sales agents is touting off false home invasion or burglary crime statistics in hopes of creating a manufactured sense of fear in your community. They may even try to "talk" their way into a home by offering a free home security estimate.
A shameful business practice used by some home alarm companies is to trick a customer with an existing monitoring plan into switching to their company's monitoring contract. Many will claim to save you money from your existing home security provider, but at the end of the day, they are only adding to your growing pile of bills by giving you an additional monthly payment and long term monitoring contract. They'll even go as far as to lie to you, telling you that your old alarm company is out of business—this is completely illegal and only the worst of the worst in the alarm industry do this.
The Swindle
In a lot of cases, you'll get a "free" home security system, but you will have to sign on the dotted line for a long, drawn out 3 year commitment. Let's not forget about the $30+ a month you will be paying for those 3 years; not to mention any further maintenance costs done to your "free" alarm system.
The 3-Punch Knockout After Installing a Burglar Alarm
An Unbreakable Contract - One of the pitfalls of signing a contract with an alarm company is the inability to cancel that contract. Many home security contracts require you to give up your first born in order to break the agreement. OK, maybe not your first born, but usually to cancel, you need to pay a lump sum for all the months in your contract...that's what we call the "no cancel" cancellation. Oh, and if you look closely at your contract...you need to pay for monitoring, even if the "free equipment" the alarm company sold you

doesn't work

. Just read this horror story by one burglar alarm owner.
THIS Nasty Little Clause - Somewhere in the fine print of most contracts is a nasty little clause, written in a teensy tiny print: it's called an "auto-renewal clause". Basically, if you fail to cancel your contract within a specific window of time, the contract you were hoping to break free of is renewed for another 3 years and another $1,500 goes out the window. Learn how this couple got hit by this fine print. Quick Test: Can you remember to cancel a subscription that ends in 3 years?
A Tangled Mess - In the event that you do remember to cancel your contract, the home alarm company is going to want their equipment back. Not only will they charge to remove their equipment from your home, but they will also leave exposed holes in your walls and doors.
Here's how you can Outsmart an Alarm Sales Rep:
Read the Fine Print - Before you sign your life away, make sure the written contract includes all oral promises made by the salesperson. Your contract package should include:
Installation price
Monthly monitoring fee
Length of contract
Warranty information
Explanation of your rights to cancel the deal
Cancellation terms
Also check to make sure the contract is dated and lists the name and address of the seller.
When in Doubt, Shut the Door – It's not rude or impolite to tell a salesperson you're not interested. It's a whole lot easier and safer to tell a salesperson "no" at your door than it is to ask them to leave once their inside your home. In the event that a salesperson refuses to leave your home after you have asked them to leave, call the police. Take it from this woman, who was attacked by an alarm security sales rep.
Don't be Afraid to Call – If a salesperson claims that your existing home alarm company went out of business, call your current monitoring company to confirm. Normally, you would be notified of a change like this by mail or telephone, not by an unannounced visit by a representative from another company.
The best way to ensure peace of mind with a home alarm company is a DIY home security system. Not only are you the installer, but also the salesman. You choose what you need to secure your home and then you install it.
ADD A COMMENT
Recent Posts
by KevinRaposo
Our bloggers chose Lucky Brand for its fit, comfort and unique details and finishes. Read more on the latest styles plus get a chance to win $100.
Read more
Embassy Suites by Hilton is a brand within the Hilton Worldwide portfolio that promises to provide what really matters most to the savvy guest. Our bloggers took a family getaway to experience Embassy Suites by Hilton. See everything they had to say and comment for your chance to win $100!
Read more