4 of the Biggest Readmission Risks
The process of transitioning from hospital to home can be an overwhelming and scary process. Friends, relatives, family members or even a spouse may not always be ready or able to help seniors transition back from hospital to normal living at home. It's not without reason that out of every five senior patients, one is readmitted back into a hospital within a month of being discharged.
Improving health-care communication is an important goal when it comes to reducing readmission risks. There are four areas that when focused on can help reduce readmission. The four main causes of readmission are poor medication management, missed follow-up appointments, falls, and lack of education about chronic illness care.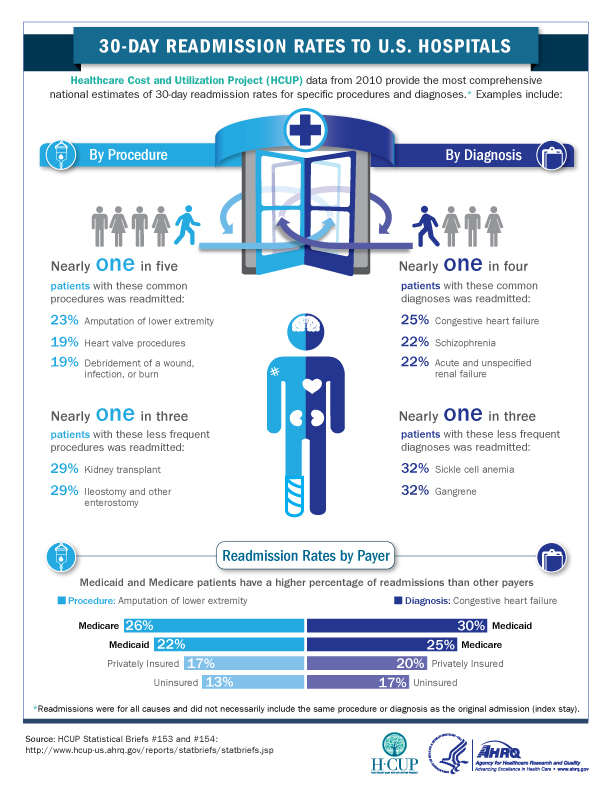 4) Lack of an Efficient Medication Management
One of the primary reasons of a hospital readmission within weeks of discharge, is poor management of medication.
It becomes difficult to keep track a changing medication regimen. According to Pharmacy Times, half of the elderly people who take medicines 4 times a day, do not take them as prescribed. As a result, mostly the elderly people are at a higher risk of ending up in hospital within weeks of their discharge.

3) Missing Doctor's Appointment
Another very important reason behind readmission is missed follow-up appointments with their doctors. Often seniors are left with no one to take them to their doctors appointments or to remind them of their appointments.

According to a recent study by The New England Journal of Medicine around half of the patients (survey done on over 12 million patients) get readmitted within 30 days of recharge due to their incapability of keeping up with the regular appointments with the doctors.
2) Accidents and Falls
Studies have shown slips and falls contribute to seniors readmission. Many such accidents can be prevented if the proper home safety precautions and care is in place.


Activity that improves balance and coordination is best. During recovery, it is important to follow physical-therapy prescriptions, evaluate the medication regularly, get an eye exam regularly, and adopt home-safety measures, like improving home lighting, all of which helps lower the risk of falls.
1) No Proper Education on Chronic Ailments
In a recent survey, about 80 percent of older people have a chronic illness, according to the CDC. Half have at least two. Yet many don't fully understand their symptoms and what to do when they have a problem. Instead of calling a health-care provider, they often go straight to the emergency room—for problems that aren't emergencies.


About the author
Jody Guerrieri, RN, is the vice president and co-founder of Preferred Care at Home. Jody has been a registered nurse since 1981. She joined the family-run home-care business in 1985. Jody's passion is always to find better ways to serve our seniors. She's a visionary in the company, creating programs like Leave a Legacy and the Senior Resource Panel.
ADD A COMMENT
Recent Posts
by jodyguerrieri
Most Popular
Simply Beverages™ use never-from-concentrate juices in all of their beverages. And they never add any preservatives, colors or artificial flavors. Read our bloggers' posts and find fun beverage recipes you can serve this summer! Plus get a chance to win $100.
Read more
Excedrin® Migraine relieves sensitivity to light, sensitivity to sound, nausea and relieves pain in just 30 minutes. Read our bloggers' posts as they talk about their experiences with migraine and how they cope with it. Plus get a chance to win $100!
Read more