5 Lessons Learned: Creating and Managing Promotions For Your Blog

Visiting our local farmer's market on Saturday morning is a standing appointment for me. This week, my daughter, her husband and I walked the aisles, tasting the samples and checking out the felted wool products.
She picked up a pair of artfully crafted hot pads and asked the producer about them.
Yes, he raises the sheep. Yes it was their wool. Futher, he dyes the wool, cards and spins the yarn then his mother knits the hot pads and puts them through the felting process.
Knowing the producer, loving his stories, appreciating the good product and already having "friended" them on Facebook about six months ago, I had my next promotions idea. I purchased two felted hotpads and put them in my bag.
Next stop? The Urban Agrarian, a storefront operation down at the historical meat market area of Oklahoma City. The storekeeper told me that if I purchased a "Keep It Local Card," I could have 10% off my purchases and get a free Urban Agrarian t-shirt.
Bingo. I now had my next giveaway idea. I would put the W Bar M Sheep and Wool hot pads together with the free Urban Agrarian t-shirt and create an "Okie Local" RDC Facebook Page giveaway. $20 invested for a $30 value package.
But I wasn't done. I needed to set up my promotion the right way. So, I took a nice photo of the hot pads, set up a Facebook ad to announce the giveaway, then I rolled it out with a 48 hour window to the giveaway deadline. I bid 72 cents per click for my Facebook ad and set the limit of my promotion at at $50 cap. I also marketed this particular ad only to Oklahoma women since the majority of interest would be from a female demographic.
What I wanted was more Facebook exposure, more blog exposure, a focus on our RDC Okie Culture theme, and something for those who cook.
So, with a total investment of $70 dollars, what did I get?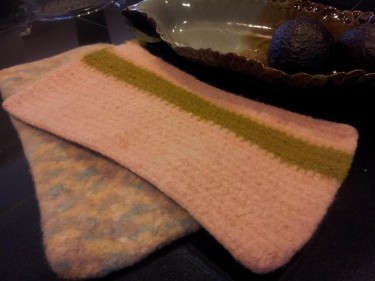 Well, I got 43 more "likes" on Facebook, I got a good amount of likes and reads on our recent Wall posts and deployed posts that were on our page, and I got to highlight two of our local producer's products. I've written about the Urban Agrarian twice, and I'm getting to know the wool producers so I can ask for an in-depth interview with them as well.
The dollar value of this promotion wasn't very high so I decided to promote it with an ad. If the dollar value or item has a high recognition and visibility among our readers, I don't have to advertise it at all...the message gets passed around and we have plenty to enter, comment or answer questions to win whatever the item might be.
Now, that was ONE idea for promotions plus the methodology of how to put it together. But, I promised five. So...here are four other ways I've found that work well to engage our readership and the RDC community:
Run a trivia contest on Facebook. You can do this by only posting one really hard question, then giving periodic hints if people can't get the answer...OR, you can create five questions and award the prize to whomever gets the most points. If there is a tie, you'll have to have a showdown. I announce trivia contest times all week long. People need to be reminded when it's time to sit down to the computer and have fun. One additional thing to remember about trivia...it's more fun if you keep it toward the theme of your blog. So for us, we'll do Oklahoma geography, Oklahoma State Parks, Oklahoma wildlife, etc.
If you get an in-depth interview or have a good relationship built up with one of the local businesses, see if they'll go "halvies" with you. For example, I take data on posts we've written and show them "we've had x number of readers for x amount of months" for a post about their business. Then, I'll say we're going to run a trivia question and ask if they'd like to write it and give away a gift certificate to their business. If it's not big enough, I'll go "halvies" with them to increase the dollar amount for the certificate. Businesses like to come up with trivia questions about their menus, mission, etc.
If I really want a lot of action, I've got to invest a lot of money. For example, I had about 35 people or so comment in order to enter for the hot pads. However, when I advertised a "OKC Thunder official NBA Jersey," retail value of $75.00, I got over one hundred responses. Everyone around here wants a jersey. Same thing with Kevin Durant Skull Candy Headphones..."stuff" is exciting, I suppose.
Finally, the opposite is true as well. "Small" can be engaging, and if you do "small" more frequently, it makes readers happy. I once put out an informal facebook poll and asked, "Would you rather have big giveaways 1x per month, or small giveaways weekly." The overwhelming response was "small - weekly." It seems that they wanted more chances to win.
Now, I'm also going to provide one bonus idea. Networking works. I've been working over a year on a Twitter relationship with TravelOK, the marketing arm of the Oklahoma Tourism Department. Because I retweet their information, put out "Red Dirt Kelly Recommends!" messages, and keep in touch with them, they send me tourism packages. YEAH...they do!
Last month, they sent me a magazine about Art in Oklahoma and four passes to the Tulsa Jewish Art Museum "Andy Warhol" exhibit. I put it with a couple other things from Tulsa, and our community had a great time with that one.
So, there you have it. Five ideas, plus a Bonus...but WAIT, THERE'S MORE!!
Not really. That's all. However, I'd really like to hear about YOUR ideas. How are they the same, different, better or crazy??
***
P.S. I subliminally planted that egg photo at the top of my post because there are five ideas ... but ALSO, because I'm writing a post for tomorrow called "Fowl Thang: A Quail, Brown, Blue, duck and Turkey Egg Throwdown." In other words...I'm also promoting...to YOU!
Find me at the Red Dirt Chronicles...
Best, Red Dirt Kelly
COMMENTS
Recent Posts
by Red Dirt Kelly
We asked our bloggers to craft some recipes from the different Success® Rice flavors and tell us about it. Check out their ideas and you could win a $100 Visa gift card!
Read more
Lean Pockets have no artificial flavors, a good source of protein & have 100% real cheese. Read our bloggers posts where they will tell you their guilt free experiences with Lean Pockets. Plus get a chance to win $100!
Read more