5 Life Lessons From Bootcamp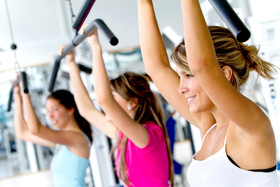 6-week Fitness Bootcamp.
The name itself brings up the image of drill sergeant like training. Getting barked at to "give me 20" just for the fun of it. Pushed to your limits until you collapse like a pile of weeping sweaty jello on the ground as your trainer stands above you with a satisfied grin on their face.
I signed up anyway.
I'm not adverse to hard physical training. I grew up as a competitive athlete and have a degree in exercise science. I also spent 10-years of my life dragging other people around in the wilderness with 60 pound backpacks teaching them how to be leaders.
So exercise is in my blood.
Then 5 years ago I became a mom.
Need I say more? Finding the time to workout let alone stay fit became a daily challenge between juggling being a mom, work and other responsibilities.
I was OK with it for a while. Particularly when my daughter was really young. I managed to fit in exercise here and there. But I forget what it felt like to be truly fit.
Then a couple of months ago it came into my inbox. Join now for the KAIA Fall into Fitness 6-week Bootcamp!
I checked it out. It looked great. I loved that it was a women's only bootcamp. It was just what I needed.
But then the blah blah blah inside my head began.
There is no way you can commit to 5-days a week of workouts. You shouldn't be investing your money in this right now. Do you really have the motivation to follow through with this?
I finally managed to push the blah aside and clicked the register now button before I could change my mind.
2-days later my 6-week Bootcamp journey began.
It was hard. It was fun. It was worth every moment that our trainer turned away to hide her grin of satisfaction as she told us "great job girls!" while we lied in a sweaty heap of exhaustion at the end of each workout.
I walked away from the Bootcamp fitter and stronger then ever. The best part is I feel so much more energized to run around, play and keep up with my daughter.
I have realized what I learned from Bootcamp goes way beyond fitness.
Here are the 5 lessons I walked away with:
Lesson 1: Just click it
The biggest obstacle between Bootcamp success and me was signing up in the first place. I spent a few weeks reading about it. I would start to sign-up but not finish. I over analyzed whether I should do it or not (as though I was about to sign my life away!).
In the end I decided to stop and just listen to what my gut a.k.a. intuition was telling me. Then it all became clear. Just click register. So I did. I made the commitment. I had overcome the first biggest obstacle. Making the commitment to my own success.
Lesson 2: It's about the inches not the pounds
You can choose to do weigh-ins and measurements during Bootcamp. One o f my goals was to lose the last few stubborn pounds I wanted to finally say bye bye to since becoming a mom. So I weighed-in.
Mid--Bootcamp weigh-in day came. I felt good and that I had lost a number of pounds. I stepped on the scales and looked down. What? 1 pound! That was it! After 3 weeks of blood, sweat and tears I had lost only 1 pound.
As I stood there and started to lament about all the hard work I had done and the little results I had gotten my trainer started to measure me. She handed me the paper where she recorded my results.
None too excited after the 1 pound incident I peeked a look at them. Then I did a double take. I may have lost only 1 pound but I had lost 4 to 5 inches.
This is what I was reminded. Sometimes we have a limited vision of what success is. In business it may be how much money we make. In our lives it may be the things we have such as our house, car or clothes. As parents it might be the grades our kids get at school. In Bootcamp it might become all about the pounds.
When we do this we often fail to notice other ways success is showing up in our lives. We get so focused on the pounds we lose sight of the inches.
More Like This
Recent Posts
by Karen Steele
philosophy celebrates the beauty of the human spirit. see how our bloggers make time for themselves and how they use philosophy skin care in their daily routine.
Read more
Most Popular
on Work/Life