Accessory Envy
{ Left to right: "je t'aime", "my treasures", "bejamins", "summer of love", "my diet starts tomorrow", "nerd alert!", "drinks on me!", "lunch money", and "can't buy me love." }
I recently discovered the fabulous designer Rebecca Minkoff, and featured her "my diet starts tomorrow" coral coin pouch when I posted my
IT List for Summer
. Then I stumbled across a whole little universe of these clever and kitschy pouches that she makes and I'm so in love...the "lunch money" one is awesome, and the "drinks on me!" is sooo perfect for girls night out. I just think the whole concept is genius and super fun because you can fit one to your personality or a specific mood.
Here are some other beautiful pieces from her online store...
I just couldn't help but totally crave these happy and bright bags and accessories, and I'm not even a handbag or accessory girl!
Confession: I need to step-up my fashion game asap. I've lost all the baby weight, plus 14 more additional pounds and I feel like I'm ready to put actual effort into my style and ditch the "same old, same old." What I wouldn't give to empty my closet and have it magically filled with a whole new wardrobe. I think too it's the fact that I've just turned 30, and that's a whole new decade of fashion rules. Somehow those Roxy halter tops just don't seem to fit into the 30 equation anymore...although I do love me some Roxy ;)
Visit my blog on motherhood, life on the California coast, travel, food, style, and more!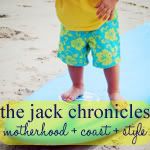 More Like This
Recent Posts
by DevonRiesenberg
BlogHer and Chinet® asked our bloggers to plan a fun event with friends and family, usingChinet® Cut Crystal® products for inspiration. Check out their blog posts for their best elevated entertainment tips and ideas.
Read more
Recent Comments
on Fashion