Aging Gracefully
By
marjo
on December 14, 2013
Aging is something we all dread as women. What will I look like, how will I feel, will I be able to do all the things I used to? Too many questions. I got to my late 40's and found some stray grey hairs. Oh no, I thought, this is not good, I'm going to look 'old'. Off to the salon for the first and last dye job on my hair. Let me back track a little. I have long, dark brown, curly hair and do not go to the salon for 'hair do's' since a bad experience some years ago. The hairdresser wanted to blow dry my hair, that's a no, no, especially the way he attempted to do it! Winding my hair around a bristle brush and pulling it out. The only problem was he could not pull it out. "Oh, we'll cut it off", he says. It was wound up by my scalp so I would have had long hair with one great short lump, no thank you. I sat there for nearly twenty minutes getting my hair unwound myself, successfully I should add.
Anyway, back to the color thing...yes, I did have it colored in my vanity. Wow, what an awful sight. It was jet black and some dye had stained the skin of my scalp. Then the worst part was when it started to grow out...yuk! So never again. 'Grow Gracefully' with the natural hair. Then several years later Hurrican Charley hit and our house was trashed. My hair turned totally grey within a month of this event!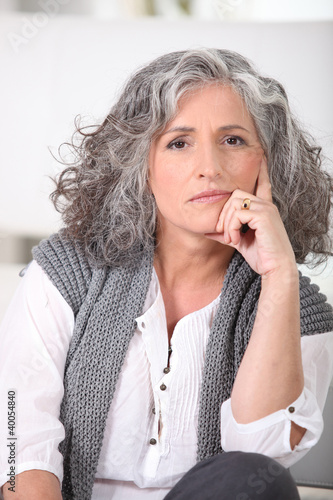 That was the first stage of 'Growing ole Gracefully'. The next is, well dare I say, wrinkles on the face. It's like one day you look in the mirror and think 'who is that person looking back'? Well yes, it is you, but gravity is taking it's toll. For those of you who, like me, have been a 'sun worshipper' most of their lives, the wrinkles seem to have developed more than others.
...and we all know about face lifts, botox and all that. But who wants to under go surgery, that could go wrong, keep having artifical stuff pumped into your body? No thanks. Enjoy the face, wrinkles included, that God gave you and evolves as you grow through each phase of your life. By all means take care of your skin and look you best. I have accepted that now I am as beautiful to all who love me as I was when I was 16!
More to come...
Related Posts
More Like This
We Talked About Menopause & How Replense can Help. Replens™ is the clinically tested, doctor recommended brand of long-lasting v
Read more
Recent Comments
on Health