All Aboard to BlogHerVille
Am I now a seasoned Amtrak Traveler?

Does going on train trips twice in six months count? If so I'm in.
Having ridden Amtrack to NYC in March, I was a seasoned veteran when it came time to planning transportation to BlogHer '12. I had a fluent knowledge of the Amtrak web site, could "click" round trip with the best of 'em and knew how to plug in to enjoy free WiFi in business class.
So, deciding to go to New York City for BlogHer '12 in August, I had to plan ahead to get the cheaper rates. After my Conference fee was paid, I needed to reserve a room and get travel connections. I found that each month, I could finance a piece of the BlogHer puzzle. First I reserved a room at the Hilton, which I could do by paying one night up front. Then, after saving up for several months, I was able to reserve my round trip trip Amtrak train tickets. In this way, although the trip cost about $1,500 all together, I could fit it into the budget and not feel burdened by the coming festivities.
Rockville, MD Metro Station on the way to New York City.
The amazing thing was, my plan worked! The trip turned out to be an easy venture. Exciting as well as easy because, I was able to text other BlogHers as they came into NYC from all over the country. KarenLynn and her husband Mike, were flying in from Wisconsin. They were texting to join up with TexasBeth at JFK airport to share a cab to the Hilton Hotel. Elaine R.N. was texting that her flight from North Carolina had been delayed and she wouldn't be in until evening. Laine Griffin confirmed she would be meeting me in the Hilton Lobby Lounge on Thursday evening. Sabrina Blogs was coming in from Georgia and all was well. There were flurries of texts being sent back and forth, intensifying in their tone as the day went on and we were getting closer to meeting each other in person. Soon, I was at Penn Station in New York, texting everyone I had arrived. I was having SO MUCH FUN and BlogHer '12 hadn't even started.
Penn Station at Madison Square Gardens.
Riding a taxi to the Hilton was a tour in itself, seeing the sites while settling in to the fact I was really there. Unpacking, relaxing, freshening up, business cards in hand, I was ready for BlogHer. Other BlogHers were arriving at the Hilton in droves. It wasn't too long before we were gathered in the Hilton at Happy Hour, meeting, greeting, chatting and cheering when another BlogHer entered the scene and was recognized.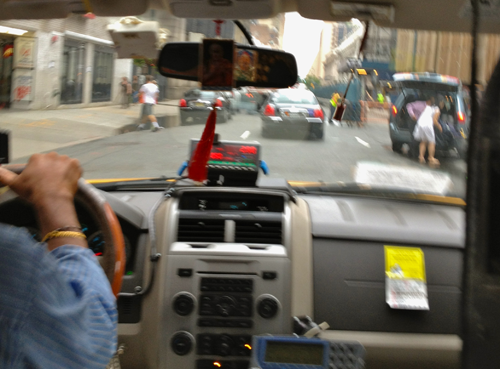 Taxi from Penn Station to the Hilton and BlogHer '12!
The next morning, Thursday, August 2, was Pathfinder and Healthminder Day. That's when the studies began. Like a college student hung over from orientation parties, I had to get back in the groove of being a serious student. Light hearted, but intense amounts of information were pleasantly delivered in several places at once, depending on your interests.
Many lectures and Power Points, one after the other.
I attending Pathfinder Day and started taking notes from real life BlogHer celebrities we'd seen online. All over the Hilton conference area, roomfuls of women gathered at round tables to exchange business cards, listen, learn, exchange, suggest and share. Sometimes the groups were small, a maximum of eight people at each Geek Bar, for instance, while some of the gatherings were tremendous, like the luncheons for the Keynote Speakers, Martha Stewart and Katie Couric.
BlogHer '12 Still Life, "Coffee and Cards."
There was lots of partying and socializing, not to be forgotten, but to me, learning from these high tech, high level, very accomplished women was my personal highlight of BlogHer '12. Rather than reinvent the BlogHer wheel, I could attend state of the art technology and organizational skills lectures. Highly published and syndicated journalism practices were freely and graciously shared at each gathering.
Sunny Day. What could go wrong?
Sad, but true. All good things must come to an end. Soon the Conference was over. Our new friends and old faces, the living avatars of BlogHer.com, were leaving the Hilton. Then the travel fun began again as we texted each other, saying good bye and trying to gently let go of the experience and of each other.
A thick blanket of clouds blocks the sun. Yikes!
And what travel it was for some. I was lucky, being on Amtrak, so could watch the texted drama unfold unscathed. Unfortunately, BlogHers on planes were in for long waits and disrupted service. While it was sunny, the Train Conductor had looked out the window, commenting that something must wrong; there were no planes in the air near the airport in New Jersey.
Thanks to my trusty texting, I reported to him that all planes were grounded due to an incoming storm. It was hard to believe while the weather so lovely, but soon I was able to take the last photo showing the storm rolling in. The last photo tells the tale, in addition to all the stories texted by my BlogHer sisters on their way home from New York City and BlogHer '12.
How did travel home from BlogHer '12 go for you? I'd love to hear your happy or harrowing story. If your "vent's not spent," please share your experience in the Comments below!
SunbonnetSmart.com is authored by a little bird who loves to lure unsuspecting BlogHer bloggers to her web site.

COMMENTS
Recent Posts
by SunbonnetSmart.com
Most Popular
We asked our bloggers to craft some recipes from the different Success® Rice flavors and tell us about it. Check out their ideas and you could win a $100 Visa gift card!
Read more
Lean Pockets have no artificial flavors, a good source of protein & have 100% real cheese. Read our bloggers posts where they will tell you their guilt free experiences with Lean Pockets. Plus get a chance to win $100!
Read more