Almond Fennel Biscotti /Cake Rusk
When it is pouring heavily all that your heart desires is a hot cup of masala chai or coffee. And, because I believe coffee and tea are meant to be enjoyed with a snack, there's nothing better than having a biscotti. It is my best all time favorite snack since childhood.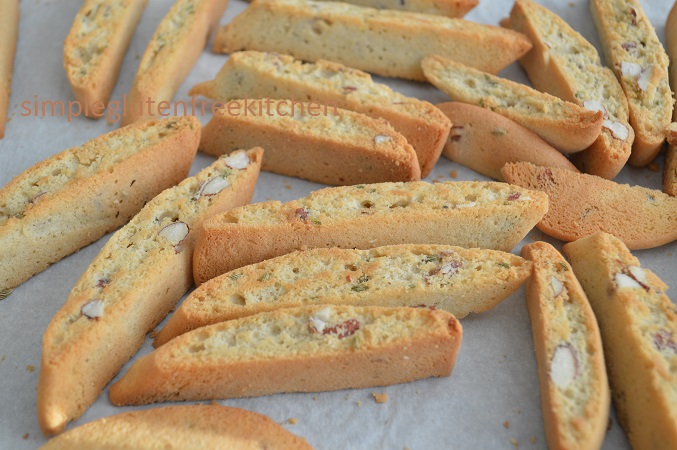 Ingredients:
123 g (3/4 cup) rice flour mix
93 g (3/4 cup) amaranth flour
100g (1/2 cup) sugar
1/2 cup butter
1/2 cup chopped almonds
1 tbsp -2 tbsp fennel seeds (coarsely ground)
1 tsp baking powder
1/4 tsp baking soda
3 eggs
Instructions
Preheat oven to 350° F. Line a cookie sheet with parchment paper.
Mix amaranth and rice flour mix, baking powder, coarsely ground fennel seeds and baking soda in a bowl. Set aside.
With an electric mixer, beat butter with sugar until pale and fluffy.
Add eggs and blend well.
Stir flour mixture into butter mixture until blended.
Stir in almonds.
Using two spoons plop three fairly straight lines onto prepared cookie sheet. Shape it into a log with the back of spoon.
Bake in the oven for 15-20 minutes or until light brown.
Remove from oven, but do not turn off oven. Reduce the temperature to 300°F. Line another baking sheet with parchment paper.
Let the logs rest for 10 minutes. Cut each log into 1/2 -3/4" wide slices.
Lay each slice back on the cookie sheet with cut sides facing down.
Bake for 7 minutes. Turn the cookies over and bake for another 7-8 minutes.
Remove from oven and cool on a cooling rack.
Recent Posts
by Balvinder
We asked our bloggers to craft some recipes from the different Success® Rice flavors and tell us about it. Check out their ideas and you could win a $100 Visa gift card!
Read more
Lean Pockets have no artificial flavors, a good source of protein & have 100% real cheese. Read our bloggers posts where they will tell you their guilt free experiences with Lean Pockets. Plus get a chance to win $100!
Read more