Another Way to Get Your Brown Rice: Gluten-Free and Nutritious Brown Rice Tortillas
BlogHer Original Post
On Sunday I wrote about how brown rice has been added to the list of whole grains and urged BlogHer readers to eat more brown rice. Today I'm back with another idea featuring brown rice. Brown rice tortillas are a lower-glycemic index alternative to corn or flour tortillas, as well as being a perfect idea for anyone who needs to avoid gluten in their diet.
In Utah I can find brown rice tortillas at Whole Foods, but I haven't seen them at my regular grocery store yet. For me, they're worth making an extra trip, and besides I have to go to Whole Foods occasionally to get my favorite Greek Yogurt anyway! The brown rice tortillas are in the refrigerated case at Whole Foods, and I keep them in the fridge or freezer at my house too.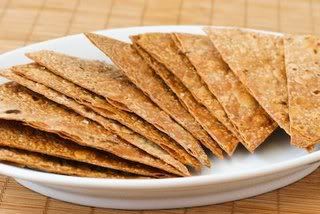 I've only recently discovered them, and so far have only used them for
Baked Brown Rice Tortilla Chips
(pictured above.) Since I try to avoid corn and white flour due to their
high glycemic index
, these chips were a perfect snack for me.
Plenty of other food bloggers were ahead of me in discovering the brown rice tortillas. I first noticed them this summer when Karina's Kitchen posted her fried version of
Brown Rice Tortilla Chips
(pictured above.) And though Karina cautions that the tortillas are only good when they're fresh, she uses them in dishes like
Gluten-Free Pesto, Bacon and Tomato Wraps
and
Gluten-Free Tostada Nuevas
.
Another blogger who used the tortillas to make a snack was Book of Yum, who calls her version
Brown Rice Pita Chips
. She didn't like the brown rice tortillas for wraps, but did enjoy this use of them as a flat-bread type snack. Then she made her own brown rice crepes and used them in
Savory Crepes with Peanut-Veggie Filling
(pictured above.)
Gluten-Free Mommy is another gluten-free blogger who likes the brown rice tortillas. She uses them in tasty
Chicken and Rice Wraps with Ginger Sauce
or
Turkey Pesto Wraps
(pictured above.)
If you're interested in eating more nutritious brown rice and/or avoiding tortillas that contain gluten or white flour, there are some tasty ideas to get you started. BlogHer readers, what other tasty ideas can you think of for brown rice tortillas?
Kalyn Denny writes about food and at BlogHer.com and shares her passion for cooking at Kalyn's Kitchen. She ate her brown rice tortilla chips with her favorite Cilantro Salsa Dip.
Comments
More Like This
Recent Posts
by Kalyn Denny
Help protect your family from the transmission of harmful bacteria and viruses! Use Lysol's Full Bathroom Range to remove soap scum, lime scale, and everyday dirt and grime to leave your bathroom smelling clean and fresh.
Read more
FoodSaver® Reviews & Giveaways
Save time, money and space with the FoodSaver® Vacuum Sealing System! Air is the enemy of freshness and FoodSaver® vacuum sealers remove and lock out air and moisture. It keeps food fresh up to 5x longer! Read our bloggers' posts and know more about FoodSaver® plus get a chance to win $100!