For Anyone with Herbs in the Garden: All About Drying and Freezing Herbs
For gardeners in the northern hemisphere, the nights are getting colder and it's time to think about preserving the harvest. I hope I might have inspired a few people to start growing their own herbs with my series of posts on Cooking with Fresh Herbs. If you do have herbs in your garden that you'd like to use in the winter, now is the time to think about drying or freezing them.
If you don't have a herb garden, these tips are also great for those times when fresh herbs are cheap at the farmers market, or you have to buy an expensive bunch of herbs for a recipe that only uses a small amount.
There are some herbs that are best preserved by freezing, while other are best dried, but before you decide which you're going to try first, think about how you'll be using the herbs and what kind of herbs they are. If you haven't heard about soft herbs and hard herbs, Helen of Beyond Salmon has a good explanation, as well as some tips on storing herbs in the refrigerator. She admits that she may have made up the designations of "soft" and "hard," but Helen's explanation works perfectly for me.
Hard herbs (like thyme, rosemary, oregano, and sage) are things that are suitable for long cooking time. This means that they're also useful in the dried form and are good candidates for drying, although in my experience they can also be frozen. Soft herbs (like cilantro, basil, parsley, mint, dill, tarragon, lovage, and chives) are things that are used raw or added at the end of cooking time. These types of herbs are best preserved by freezing.
I've been freezing my own garden herbs for years, so let me admit right up front that I'm probably biased towards freezing. However, plenty of other bloggers are also writing about how they're drying their herbs. Whether you choose freezing or drying, if you spend a little time preserving your herbs now, you'll loving using them once it's winter.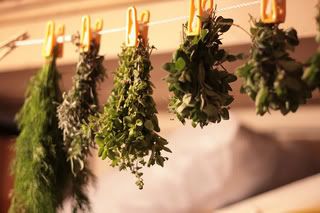 Drying Herbs photo from Straight From the Farm
Drying Fresh Herbs:
Straight from the Farm has
good directions for drying herbs
.
More good instructions on
Drying Herbs for the Winter
from My Bay Area Garden.
At Slashfood, Joanne Lutynec recommends
drying the herbs inside paper bags
.
An Open Cupboard has step-by-step instruction for
drying parsley, sage, rosemary, and thyme
.
Lydia from The Perfect Pantry has a screen she uses to dry herbs, and shows it off in her post about
How to Preserve the Harvest
.
Indian Spice Trail talks about
drying mint in the microwave
.
The Purloined Letter shows how she
uses a food dehydrator to dry herbs
.
Her Able Hands also used to use the paper bag method, but now she's sold on the food dehydrator for
drying herbs for cooking
.
Frozen Thai Basil photo from Kalyn's Kitchen
Kalyn's Advice on Freezing Fresh Herbs:
How to Freeze Fresh Basil
from Kalyn's Kitchen is one of my most popular posts.
How to Freeze Rosemary and Thyme
is a post I wrote after a successful experiment.
My next freezing exeriments were
Freezing Thai Basil, Sage, Tarragon, and Mint
.
Frozen Basil photo from Andrea's Recipes
Other Bloggers on Freezing Fresh Herbs:
In a post on
How to Freeze Basil
from Andrea's Recipes, Andrea recommends ice cube trays.
Gourmet Traveler shares about
The Best Way to Preserve Garden Herbs
, which she also thinks is in ice cube trays.
Advice from Biggie at Lunch in a Box about
Freezing Chopped Herbs
.
The Kitchn recommends you
Save Leftover Herbs in Ice Cube Trays
, adding stock instead of water.
At Coffee and Vanilla, Margot talks about
Freezing Fresh Herbs
, and says not to bother freezing cilantro.
Frozen Green Onions photo from Lunch in a Box
Other Ideas for Preserving Fresh Herbs
A Unique way to preserve mint from Grow Cook Eat, who makes
Mojito Base
and freezes it.
Preserving Shiso, Basil, Lemon Verbena, and Other Herbs
from Just Hungry has lots of information about preserving some less-common herbs.
A great idea from Lunch in a Box about
Freezing Chopped Green Onions in Plastic Drink Bottles
.
You can also preserve herbs by making
Honey Herb Vinegar
, with instructions from Pam at Sidewalk Shoes.
Kalyn Denny writes about food and at BlogHer.com and shares her passion for cooking at Kalyn's Kitchen. Kalyn freezes herbs all the time, but her first experience with drying herbs was making Sage, Rosemary, and Garlic Dried Herb Rub.
ADD A COMMENT
Recent Posts
by Kalyn Denny
Most Popular
We asked our bloggers to craft some recipes from the different Success® Rice flavors and tell us about it. Check out their ideas and you could win a $100 Visa gift card!
Read more
Lean Pockets have no artificial flavors, a good source of protein & have 100% real cheese. Read our bloggers posts where they will tell you their guilt free experiences with Lean Pockets. Plus get a chance to win $100!
Read more