Apologies to Hillary, Revisionist History and Cognitive Dissonance
These past two years, we have been stunned by a pundit class offering everything from grudging to glowing praise of Hillary Clinton, a candidate they had roundly excoriated four years earlier. What changed? And will the men and women in mainstream media who exhibited a reckless, cruel bias toward not only Hillary, but her supporters, now pretend the debacle of the 2008 primaries never occurred?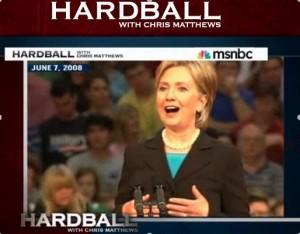 Today, watching their vapid, verbal sparring in expensive suits as they sit behind well-appointed desks, butter wouldn't melt in their mouths. Yet, it is important we not forget their breach of responsibility, lest past become prologue in 2016 and beyond. The specter of Secretary Clinton loomed large at the Democratic Convention in Charlotte two weeks ago. Though she was working half way around the world as President Clinton offered up his Convention speech on President Obama's behalf, the #1 trending twitter hash tag that night was: "Hillary 2016." Inquiring minds want to know – will she run again? And so, the feeding frenzy has begun, two months before we even have the results of the current critical election.
Chris Matthews of MSNBC's Hardball was one of Secretary Clinton's worst "man-handlers." Now, he leads the parade discussing Hillary's prospective 2016 run and how she might prevail. He offers a demeanor innocent as that of a newborn, behaving as though he had rooted for her all along:
When Matthews says, "She was dynamite in New Hampshire," one may recall his many "bi-polar" comments about Hillary… Perhaps Matthews would rather we forget he basically accused an entire state of being racist (referencing the "Bradley Effect"), since she beat all polling averages to pull out a win there. Matthews didn't think she was "dynamite" then, as evidenced by this litany: "Nurse Ratched," "she devil," "Madame DeFarge," "domineering mother," "The only reason anybody voted for her is they felt sorry for her because her husband messed around." Matthews also dubbed her male supporters "castratos in the eunuch chorus."
His current about face might simply be a manipulation to seduce voters to the polls for Obama, thinking that would somehow bode better for Hillary Clinton's Presidential future. But the very existence of this video at this premature stage showcases the wrongheaded focus of the media, and particularly the ghoulish fascination with all things Hillary or Palin. The modus operandi of "chew them up and spit them out" is more about ratings than having the decency to judge a woman solely on the merits – or more important, keeping our focus squarely where it should be – the current race and who would be best to lead us out of the difficulties in which we now find ourselves.
Guest panelist and ex-Congressman Harold Ford Jr. made an interesting comment in praise of Secretary Clinton when he tactfully offered that we were hungry for someone who loves politics and policy, is extremely hard working and knows her way around. But then there was Joan Walsh of Salon.com trumpeting the false narrative that Hillary Clinton acted "entitled" last time, not courting Americans or asking for their votes. Bull crap. It is true she evolved into a better candidate as the race wore on – but she has always worked hard for everything she got. I never saw a politician more prepared out on the trail or more willing to engage in specifics, reaching out whether or not she got a warm reception. Journalists' and pundits' revisionist history is a function of their need to assuage guilt or, more likely, to dodge blame since they didn't bother with vetting and proper focus last time out.
That never stopped the likes of Margery Eagan of the Boston Herald from beating on Clinton. As Eagan puts it in "An Apology to Hillary":
"When her husband was president, I made a career out of trashing Hillary Clinton's hairdos, pantsuits, her attempted health care coup, her right-wing conspiracy theories, her staying with that slippery serial philanderer. Four years ago in the presidential primary I rooted for Obama over her."
Many have made a lucrative career out of thrashing Hillary and other powerful, inconvenient women. That's really the bottom line here, isn't it? It's all a business.
And now Eagan says…
"She then went on to perform [as Secretary of State] so ably that nearly two-thirds of Americans, an almost unprecedented percentage, approve of her…

More than once since 2008 I've wondered: Would she have done a better job than Obama? I don't know. But I do know I sold this woman short."
More Like This
Recent Posts
by Anita Finlay
This summer has been filled with spontaneous road trips, backyard parties with friends, and day trips to the coast. The warm summer temperatures have been perfect for grilling and spending time outside. This past week, we took coolers full of marinated Spicy Bud Light Lime Chicken Kabobs and Bud Light Lime beer to the beach for a fun day with friends.
Read more
Most Popular
on News & Politics
Recent Comments
on News & Politics