Apple Homage II
BlogHer Original Post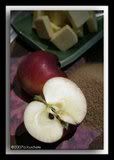 The anonymous 'Fork' from the ex pat food blog La Fourchette S'est Emballée lives in Provence. And while she's happy without a car, some times one comes in handy, you know, say, to visit the countryside in search of apples.


She writes: "... my little French life has a very small carbon footprint. Translation: I have no car. Public transportation being what it is in this corner of the world, a car is not really necessary. ... ... In fact, it's better not to have one in Aix as parking is at a premium and very expensive. So, for right now ... no car." ~ For a blog's-eye view of life in Provence, the reason to carry a cast iron skillet aboard a plane, plus the story behind and the recipe for Tarte Tatin, read Flirtatious Sisters and Plans Gone Awry


~ Coming soon: Apple Homage III ~


BlogHer food editor Alanna Kellogg celebrates Missouri apples with Dutch Apple Puff and Swedish Red Cabbage.
Recent Posts
by Alanna Kellogg
We love being… a mother, daughter, friend, working woman and wife. These are big shoes to fill. Milano encourages you to take a moment for YOU. Read our bloggers' posts as they take a moment to try their favorite Milano products.
Read more
Mornings with Jimmy Dean
Busy Moms start their day right with Jimmy Dean breakfast sandwiches for their families. Read our bloggers' reviews and get a chance to win $100!