Are You Keen on Quinoa?
BlogHer Original Post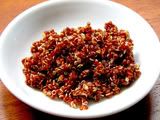 Australian nutritionist and blogger Kathryn Elliott has a life-changing piece of advice for anyone who wants to change the way they're eating. She suggests changing your diet one week at a time, concentrating on one thing until you've made it a habit. Since I first saw Kathryn's advice last November, I've been focused on trying new-to-me foods that I know are nutritious. I shared with BlogHer readers about how I'm getting serious about Flax Seeds and Tackling Tofu, and now, next on my list is quinoa.
Quinoa (pronounced keen-wah) belongs to a class of foods called pseudocereals, because it's actually a seed but is eaten as a grain. Although it's considered an ancient food, in recent years quinoa is becoming popular as a nutrition powerhouse with many health benefits. Not only is it gluten-free, low on the glycemic index, high in fiber, and high in protein, but quinoa also contains all the essential amino acids, making it a source of complete protein for vegetarians.
Quinoa is often prepared in the same way you'd cook white rice, couscous, or other grains, but it's also sold in flakes, often used in gluten-free baking. It's normally a pale tan color, but can also be red. Quinoa can be used in both sweet and savory dishes, and has a slightly fluffy texture and a pleasant nutty taste. It's definitely a very versatile ingredient, and I found lots of food bloggers using it in interesting ways.
Savory Quinoa Dishes
Red Quinoa Salad from Tea and Cookies (including Tea's photo of red quinoa featured at the top of this post)
Quinoa and Salted Ricotta from Ms. Adventures in Italy (plus links to other quinoa recipes in this post)
Quinoa Salad with Buckwheat and Cranberries from Diet, Dessert, and Dogs (includes links to a series of quinoa recipes from this blog, as well as links to other quinoa recipes)
Quinoa Tabbouleh from Once Upon a Feast
Quinoa Salad with Pickles Onions from Anne's Food
Delicious Quinoa Big Bowl from 101 Cookbooks
Vegetable Fried Quinoa from Fat Free Vegan Kitchen
Quinoa Soup with Corn from Lisa's Kitchen
Peruvian Quinoa Stew from Mursels and Musings
Inca Quinoa Salad from Food Blogga
Sweet Quinoa Dishes
Crispy Quinoa Peanut Butter Cookies from Gluten a Go-Go
Quinoa Pudding from The Perfect Pantry
Amaranth, Quinoa, and Dark Chocolate Cake from La Tartine Gourmande
Pecan-Quinoa Streusel Crumble Topping from Gluten-Free Bay
Quinoa Porridge from Closet Cooking
Gluten-Free Quinoa Cupcakes from Cupcake Project
Quinoa Breakfast Cake from Karina's Kitchen - Recipes from a Gluten Free Goddess
Gluten-Free Quinoa Goji Berry Muffins from Gluten Free South Africa
Quinoa Flan from Canela & Comino
Chocolate Chunk Toffee Cookies from Gluten Free Mommy
Sources:
Wikipedia on Quinoa
Quinoa as one of The World's Healthiest Foods
Quinoa at The Perfect Pantry
If you're a quinoa fan, please share in the comments about ways you like to use it.
BlogHer Food Editor Kalyn Denny also blogs at Kalyn's Kitchen.
Trending Now
More Like This
Recent Posts
by Kalyn Denny
Jockey teams up with bloggers for a summer #SavedBySkimmies blog post series! So what are Skimmies? Check out these posts and see what our bloggers thought of Jockey Skimmies, plus get a chance to win a $100 Jockey gift card.
Read more
Louisiana Seafood Reviews & Giveaway
With a little help from Louisiana Seafood, bloggers share their favorite Louisiana Seafood recipes. Read their posts and enter for a chance to win $100!