August 24: Celebrate Waffle Day
BlogHer Original Post
In Scandinavia, people celebrate birthdays, namedays and half birthdays. It's a good system, yes?! especially for all who love fresh flowers and sweet cakes. The same schtick applies to Waffle Day -- there are two, one on March 25 (that's the "international" waffle day) and another on August 24 (the "national" waffle day). Whatever. It's a good system for waffle lovers.
First, meet the food blog dedicated to waffles named, aptly, Crispy Waffle. Sheryl insists that waffles be leavened with instant yeast -- no baking powder, here -- and her favorite waffle recipe is mixed the night before, making it perfect for weekend mornings. If you can't find instant yeast, a commenter suggests how to use active dry yeast in Sheryl's post for perfect waffles.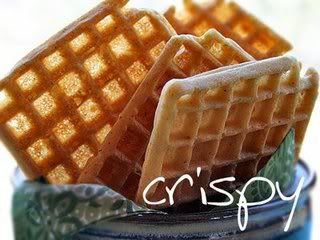 Photo courtesy of Karina's Kitchen
MORE YEAST-LEAVENED WAFFLE RECIPES
101 Cookbooks ~ Power Waffles
Nosheteria ~ Raised Waffles
Baking Bites ~ Raised Orange Waffles
OTHER WAFFLE RECIPES
Smitten Kitchen ~ Pumpkin Waffles
The Wednesday Chef ~ Buttermilk Brown Sugar Waffles
Whole Grain Gourmet ~ Sweet Potato Waffles
Karina's Kitchen ~ Gluten-Free Savory Waffles
FamilyStyle Food ~ Gluten-Free Almond Waffles
Pro Bono Baker ~ Chive & Sour Cream Waffles
No waffle iron in your pantry? Then take the Waffle Quiz at YumSugar.
BlogHer food editor Alanna Kellogg has never made waffles but shares half birthdays with an eight-year old whose BFF came over to try out Glazed Carrots & Turnips.
Recent Posts
by Alanna Kellogg