Own Your Beauty, Month 1: The Authentic Woman's Body
After I had my first baby, I was torn between being in awe of my body's incredible accomplishment and hating what that accomplishment did to the way I looked. I felt guilty for not being stronger in my self-love. I felt guilty for having been overweight before I got pregnant -– for "doing this to myself." And then I began to notice little glimpses of other women's bodies. Mothers who were clearly never overweight but who still carried the marks of a pregnancy, mothers who had stretch marks all the way down their legs, just like I did, women with unconventional proportions, even some men with stretch marks. At first, because I had barricaded myself in a tower reinforced with intense self-hatred, I didn't truly notice these things. I took casual note of them, but nothing more. The self-hate bounced them away with excuses: "But she isn't as ugly as I am." "But she isn't as fat as I am." "But those stretch marks aren't as dark as mine are." Yet, each time they bounced off my tower, they left a little crack in my armor of self-hate.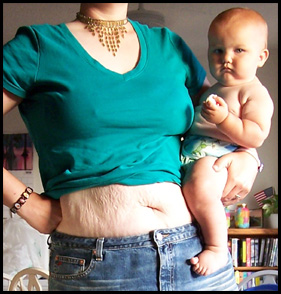 And one day, as I've written about on The Shape of a Mother, my tower was weak enough to come crashing down. I really began to take it in at that time. I talked with friends about it. One friend went so far as to share photos with me of her stretch-marked, nude self. And at that moment, I knew I had to bring this to as many women as I could. I had to share with the world what an authentic mother looks like, what real women look like.
And what does she look like, this Authentic Woman? According to SOAM, she cannot be placed into one description. She is tall and short, angular and curvy, stretch marked and smooth, scarred by Cesareans and surgery-free. If you are looking for your place on this spectrum of women, I promise you, the Authentic Woman looks just like you.
I sometimes hear the younger moms on SOAM say they don't have the body of, for example, a 20-year-old. This strikes me as somewhat strange since they are 20 years old. So, what they mean is that they don't have the body that society tells them they should have as 20-year-old women. Or that they don't have the body they expected to have or want to have. But this young mother, she does, literally, have the body of a 20-year-old. And no one has the right to tell her otherwise. I want her to own it, her 20-year-old's body, and to love it for what it is. Your body is yours. It has gotten you through many things in your life. Perhaps it has failed you at times. Perhaps it has achieved all you asked of it and more. But whatever you look like is worthy of acceptance. Own your body, wherever its taken you in life, and love it for what it is.
As Brene Brown says, authenticity requires courage. It takes bravery to be the first one to share an insecurity, to lift your shirt and show the world your mama-belly. Heck, it takes courage to be the 50th or 500th person to do so. But, in my experience, being authentic makes you more whole, it begins the process of rebuilding yourself. Even -– especially –- when being authentic is hard to do. And just maybe another woman would find her own confidence in your authenticity. Maybe everyone would. You would give others the strength to be authentically themselves. Authenticity is contagious.
I feel more comfortable around people who are fully themselves, physically and emotionally. I am more comfortable with my own self the more fully I allow myself to be me, physically and emotionally. I find I can focus more on the joys in my life, like my children or my art, when I am less wrapped up in what I can do to cover all my physical flaws. I find I am happier when I allow myself to be who I am.
Women come in all shapes and sizes; many of us have been physically changed by our pregnancies or our lives -- many of us never fit the conventional image to begin with. But we don't have to allow the usual negative connotations to cling to those images. We can, and must, choose to find beauty in what we look like, in all our many shapes and sizes. A mother's body is not necessarily the same as a woman's body and both are wonderfully different from a girl's body -- just as a woman is not the same as a girl. But it doesn't mean that a woman or a mother isn't just as beautiful as a girl; each phase of a woman's life is equally as beautiful and important as the next.
I want you, the Authentic Woman, to embrace all that is beautiful about yourself. No matter if today you woke up thinking you did not fit the mold, you do. There is beauty in every body. And we must take hold of that if we, as a culture, are to move forward towards happiness. It is our responsibility as mothers to the next generation, and as members of the human race, to embrace beauty in all its forms. The very act of being authentic requires bravery. And so does accepting that you are beautiful.
I have little patience for falsehoods in any form. That is at the heart of why I started The Shape of a Mother. My mission with this site is to bring the truth forward, to leave the mythological "perfect" behind, to get the message to as many people as possible so what is actually normal yet virtually unknown becomes, simply, normal. I have discovered in other areas of my life, that each time I share a secret, I not only discover I'm not alone, but I also lose the burden of carrying it around with me each day. I want to illuminate mothers and women everywhere on what an authentic woman looks like.
More Own Your Beauty on BlogHer
Own Your Beauty is a groundbreaking, year-long movement bringing women together to change the conversation about what beauty means. Our mission: to encourage and remind grown women that it is never too late to learn to love one's self and influence the lives of those around us - our mothers, friends, children, neighbors. We can shift our minds and hearts and change the path we follow in the pursuit of authentic beauty.
Read more about Own Your Beauty or add your name to our statement of belief now.
---
Photo Credit: Crystal_1979 on Flickr
---
This blogger is also featured on EndlessBeauty.com, a website focused on a fresh look at beauty, from skin to hair to makeup, plus celeb style, fashion, and fitness.
---
Bonnie Crowder blogs at The Shape of a Mother.
COMMENTS
Recent Posts
by Bonnie Ratliff
Most Popular
We asked our bloggers to craft some recipes from the different Success® Rice flavors and tell us about it. Check out their ideas and you could win a $100 Visa gift card!
Read more
Lean Pockets have no artificial flavors, a good source of protein & have 100% real cheese. Read our bloggers posts where they will tell you their guilt free experiences with Lean Pockets. Plus get a chance to win $100!
Read more