Back--With an Adult Sandwich Bento!
Apparently I'm unreliable at best when it comes to updating here. I get bored and it goes right out the window. But now I'm starting a whole new adventure in bento-making, so it's exciting again! I've only been making bento lunches for my girly, and while they're fun in their way, I get bored with them. Now, I've decided to start making bento lunches for my guy and myself. Even though I work from home, having a bento made will hopefully keep me from my usual bad habits. It's so tempting, working at home, alone, at night to eat poorly. Time for dinner? Do I want to cook for one? Make a fast food run? Or...oh, look...there's half a bag of potato chips and a sleeve of Thin Mints. Yup, that sounds like dinner! So maybe this will help.
Anyway, here's what I made for my dinner tonight: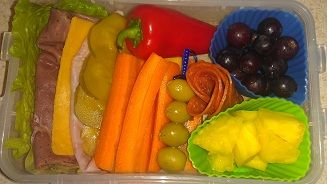 A sandwich bento! Starting from left to right: Lettuce, pastrami, sharp cheddar cheese, smoked ham, pickle slices, a sweet little red pepper, carrot sticks, a sword pick of olives, a little rosette of pepperoni slices, some red grapes, and some chunks of pineapple. Now when it's time for dinner, I'll just put all the lovely sandwich stuff on a roll or wrap with some good spicy mustard and nibble on the rest ad lib. Perfect!
Trending Now
More Like This
Recent Posts
by The Lady Butterfly
Sparkling ICE is a bold flavored sparkling water that truly delivers on taste and contains just the right amount of fizz. Read our bloggers' posts and get more details on how you can enter the Flavor Face Off plus find out more about the delicious flavors that Sparkling ICE has to offer.
Read more
Louisiana Seafood Reviews & Giveaway
With a little help from Louisiana Seafood, bloggers share their favorite Louisiana Seafood recipes. Read their posts and enter for a chance to win $100!