Back--With an Adult Sandwich Bento!
Apparently I'm unreliable at best when it comes to updating here. I get bored and it goes right out the window. But now I'm starting a whole new adventure in bento-making, so it's exciting again! I've only been making bento lunches for my girly, and while they're fun in their way, I get bored with them. Now, I've decided to start making bento lunches for my guy and myself. Even though I work from home, having a bento made will hopefully keep me from my usual bad habits. It's so tempting, working at home, alone, at night to eat poorly. Time for dinner? Do I want to cook for one? Make a fast food run? Or...oh, look...there's half a bag of potato chips and a sleeve of Thin Mints. Yup, that sounds like dinner! So maybe this will help.
Anyway, here's what I made for my dinner tonight: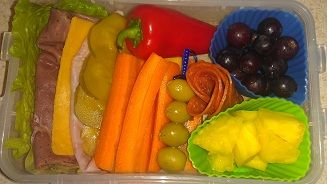 A sandwich bento! Starting from left to right: Lettuce, pastrami, sharp cheddar cheese, smoked ham, pickle slices, a sweet little red pepper, carrot sticks, a sword pick of olives, a little rosette of pepperoni slices, some red grapes, and some chunks of pineapple. Now when it's time for dinner, I'll just put all the lovely sandwich stuff on a roll or wrap with some good spicy mustard and nibble on the rest ad lib. Perfect!
ADD A COMMENT
Recent Posts
by The Lady Butterfly
Most Popular
We asked our bloggers to craft some recipes from the different Success® Rice flavors and tell us about it. Check out their ideas and you could win a $100 Visa gift card!
Read more
Lean Pockets have no artificial flavors, a good source of protein & have 100% real cheese. Read our bloggers posts where they will tell you their guilt free experiences with Lean Pockets. Plus get a chance to win $100!
Read more