Back to School: Make the Home Work for Homework
Many of you in the U.S. have already started school, and for those who haven't are getting ready to do so. It's back to the grind of school, schedule, and yes, that dreaded homework. And as a parent, I know how homework is not just work for the child, but for the parents. I mean, who remembers Physics calculations? It's just as much work for the parents as it is the child.
Sometimes it can be a challenge to get your kids to sit down and do that dreaded homework, so let's create a space where they feel comfortable, stress-free, and encouraged to do so. In today's busy lifestyle, many have their kids do their homework in the kitchen (an open area where everyone can multi-task) or at the breakfast room table where eyesight is always on the kids when help is needed. But know that any room is optional. Once the kids get older, and don't need adult supervision or help, add a great homework station in their rooms.
Here are some great tips for designing this designated space, and with these maybe your kids will be able to get their homework done easily and in a timely manner!
Select a Consistant Designated Area:
This Old House, photographer Eric Piasecki
Quiet & Peaceful Setting with no Distractions (aka TV):
Clean & Clutter Free (organization is key):
Organization (Have proper storage for supplies):
Proper Task Lighting:
Charging Stations: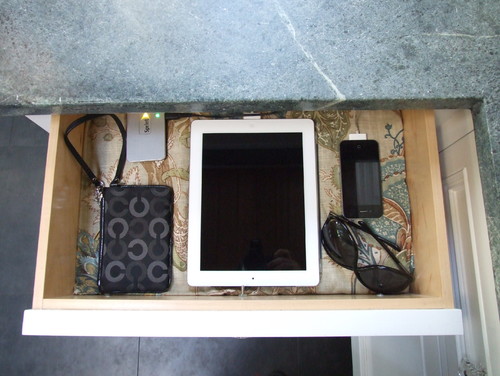 Motivational/Inspiration Boards:
Related Posts
More Like This
Recent Posts
by Design Perspective
We took a big bite of Pizza Hut's® Gluten Free pizzas and we loved it! Check out our bloggers' reviews and see why you need to visit your nearest Pizza Hut and get yourself those cheese-only and pepperoni Gluten-Free Pizzas, made with Udi's® certified gluten-free crust.
Read more
Sexy Hair Reviews & Giveaways
Our bloggers had the opportunity to try Sexy Hair products. Read their posts and see what they loved about them!