Beautiful Easter Eggs
Some times, a word dancer is lost for words. Good news, when it comes to beautiful Easter eggs, the pictures read like poetry.
DYED EGGS

Photo by NamiNami
NamiNami ~ Marbled Beetroot Eggs
The first year, Pille dyed eggs in beet juice. The next, she cracked the eggs a bit and then dyed them in beet juice.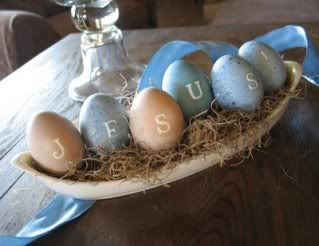 Photo by Jeanne Winters
Jeanne Winters ~ Jesus Easter Eggs
Here, adhesive letters are applied to the eggs before they're dyed.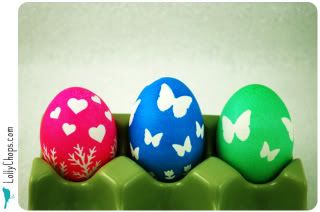 Photo by LollyChops
Lolly Chops ~ Eggscelent Eggs
Painters tape and butchers paper, they're the trick. Very cool.

Photo by Jaden Hair
Steamy Kitchen ~ Chinese Tea Eggs
The Chinese New Year tradition, well, it works for Easter too. Call it 'craft fusion'.
NATURAL DYES
Just Braise ~ Natural Egg Dyes
Stacey uses a technique from her Latvian grandmother, who dyed Easter eggs in onion skins. She's also a fan of blueberries and turmeric.
My Bountiful Life ~ Vegetable-Dyed Easter Eggs
Billi-Jean loves the marbled and river-rock effects when she uses natural dyes for her Easter eggs.
Mama's Taverna ~ How to Dye Easter Eggs
Lulu uses bits of live greenery and flowers, pantyhose and natural dyes to make beautiful, natural-looking Easter Eggs.
Southern Inspiration ~ It's time to start thinking about Easter Eggs!
This post features more natural dyes, paprika, spinach, cabbage leaves and more.
MORE WAYS TO MAKE BEAUTIFUL EASTER EGGS

Photo by Retro Mama
Retro Mama ~ Easter Is In the Air
Kim shows us how to cover eggs in -- get this -- fabric. Very cool.
Lunaticraft ~ Pysanky: A Kind of Sort of Visual How To
Ukranian eggs are spectacular, real works of art, multiple layers of wax and dye, wax and dye.
Sunday Baker ~ Thread Eggs
"Thread eggs" are fun and easy to make and look so cute hanging on an Easter tree. You'll need: liquid or spray starch, embroidery floss and small balloons. How easy is THAT?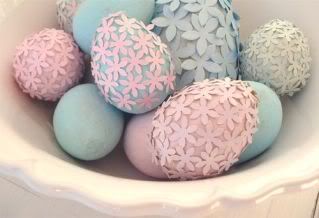 Photo by Such Pretty Things
Such Pretty Things ~ Paper Flower Easter Eggs
Jessica uses a paper punch and a glue gun to make these beautiful pastel eggs.
WHAT TO DO WITH COLORED EASTER EGGS
If your eggs are especially beautiful, you may want to create a yeasty throne for them, like Rosa's Recipes did when making Braided Easter Egg Bread.
Nienie Dialogues ~ Spring Break Project Week Day 3
How about an Easter Egg tree?
And you?
And you, do you dye eggs for Easter? What are your own family traditions? What's new this year? Do tell!
BlogHer food editor Alanna Kellogg loves the brilliant color of Ruby Eggs.
COMMENTS
Recent Posts
by Alanna Kellogg
We asked our bloggers to craft some recipes from the different Success® Rice flavors and tell us about it. Check out their ideas and you could win a $100 Visa gift card!
Read more
Lean Pockets have no artificial flavors, a good source of protein & have 100% real cheese. Read our bloggers posts where they will tell you their guilt free experiences with Lean Pockets. Plus get a chance to win $100!
Read more