BITCHES, BABES AND BROADS
[This topic was inspired by a discussion with some female friends. Thanks Linda, Shelly, Mary, Vickie, Jody , Zhak, Barra et al!]
Some women take offense to these terms, but not me. In fact, I embrace them willingly. (Just don't ever call me "girl", otherwise you could be subjected to one of my famous diatribes! More about that later.)
This goes back to the 1970s and 1980s, when I was working -strike that - clawing my way up the corporate ladder.
~BITCHES~
Back then, women were still mostly looked down upon as lowly support workers and few held positions of authority. The ones who did, had to work twice as hard to get half as far as the men in similar positions. Then, their ultimate reward was to be labelled a BITCH. This was meant to be derogatory, but in reality, it indicated these women had the balls and forthright attitude to make it in a "man's world". Call me bitch and I say:
"Thank You. That's Ms. Bitch, to you!"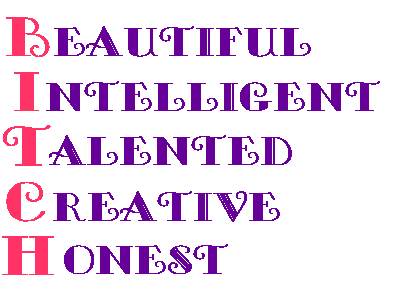 ~BABES~
From THE DOGLADY'S DEN
Recent Posts
by Debbie D.
We took a big bite of Pizza Hut's® Gluten Free pizzas and we loved it! Check out our bloggers' reviews and see why you need to visit your nearest Pizza Hut and get yourself those cheese-only and pepperoni Gluten-Free Pizzas, made with Udi's® certified gluten-free crust.
Read more
Recent Comments
on Feminism