Black Bean Tacos from Umami Girl
BlogHer Original Post
When she posted this vegan recipe for Black Bean Tacos, Carolyn from Umami Girl said "Vegan doesn't get any better than this," and I think I'd have to agree. Little details like pickled red onions, freshly-made guacamole, and sliced green olives with pimento had me drooling over this recipe. I also loved the way the black beans are simmered in tomato sauce with just the right Mexican-flavored spices. Carolyn won't even mind if non-vegans add a little shredded cheese or sour cream.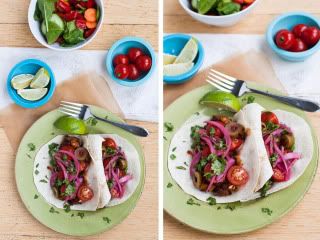 Photo of Black Bean Tacos
from Umami Girl
Get the recipe for Black Bean Tacos from Umami Girl.
Have you made something interesting for Meatless Monday this week? If so, please share the recipe link or your recipe in the comments. You can find more Meatless Monday recipes by clicking the tag Meatless Mondays.
BlogHer Contributing Editor Kalyn Denny also blogs at Kalyn's Kitchen where she's committed to low-glycemic cooking, and at Slow Cooker From Scratch, where she features "from scratch" slow cooker recipes. Kalyn probably won't ever be a vegetarian, but she does love to make meatless dishes such as Creole Spiced Rice and Kale.
[
BlogHer Food '12 will bring food bloggers together to learn, share, inspire, and of course, to EAT! Whether you're new to food blogging or an old pro, you should join us in Seattle, WA on June 8-9, 2012 -- register now!]
Trending Now
Recent Posts
by Kalyn Denny
Mom has a lot to check off her list this Summer, and Kellogg's cereal can help her get it done. How will you make the most of your Summer? Check out our blog posts as we share with you inspirational ideas for celebrating the moments of magic that will happen during this activity-filled time of year! PLUS enter for a chance to win as $100 Walmart gift card!
Read more
Kelloggs Walmart Shoppers
Bloggers show us how they use cereal to create fun, summer memories. Read their posts and enter for a chance to win $100!