BlogHer and Diet Coke and Me: A Love Story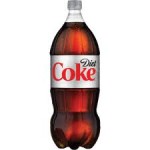 I'm going to BlogHer in a few days, and since it's the only "vacation" I've taken regularly in the past many, many years, I intend to have a blast. This is nothing novel, as I've had a blast at BlogHer for the past seven years, and this one makes eight.
I do not enjoy driving, so I'm taking the train from Indianapolis to Chicago. This is not a hardship on me; I love taking the train and Amtrak is my friend. I bought a round-trip Amtrak ticket for less than it would have cost me to park my car overnight in Chicago, in fact. Besides which, Amtrak always makes me feel as if I were in a 1940′s movie in which Cary Grant might appear at any moment. And want to be more than friends.
Speaking of friends, I'm taking my sister with me this year. She wasn't chosen as a volunteer, more's the pity, so she can't attend the conference with me, but she'll spend the day exploring the city and we'll hang out in the evening. It's not the first time we've undertaken this exact same scenario, no, indeed, we're a wild lot and we've done this before.
Okay, we've done this once before, but in our book that's enough to label us a wild lot. Shut up.
I am one of BlogHer's strongest supporters, so don't give me any nonsense about not liking the swag or the scheduling or whining about not getting to sit by the people you came through the door with. We're supposed to be adults and we're supposed to have put the fourth grade playground/cafeteria A-table sh** behind us. If you haven't, please stay home. Sheesh.
My advice to you is this: wear whatever you want; sit by strangers and turn them into friends; sit through a session about something you've never heard of; eat what's put before you and shut up about it; wander the halls and try to experience something new for a change; focus on all the positives and keep any negatives to yourself (unless it's something about safety, etc, that would benefit everyone and not just you) and partake cheerfully (or not, still cheerfully) of all the amazing freebies without dissecting their labels and whining about how bad something is for us. Free things are gifts, and nice people accept gifts with thanks and smiles.
Don't you know anything about the rules of food and drink outside your home zone? Anything goes, there are no calories, and everything is good for you.
Pity the obsessed so-called "foodie" who can't enjoy life because she's too busy condemning everything. That's not what foodies do; that's what sad, pathetic people who live only to put others down, do. Give it a break. You'll be out of town and anything goes.
BlogHer is one of the wonders of the modern world. It's a time and place where women (and a few brave men) (Neil) gather to laugh and play and learn and be ourselves, the way we used to be before we picked up husbands and kids along the way. Or, maybe, the way we thought we used to be, then. Actually, probably more like the the way we wanted other people to think we were back then.
Just remember this: Nice grownups don't whine when things don't go their way. Nothing is perfect – not BlogHer, and not you. Perhaps one of the differences between BlogHer and a small, VERY small, group of people is that BlogHer tries its best to please, and some people don't intend to BE pleased.
Last year, a grown woman had a cosmic meltdown because she didn't get a lanyard. A LANYARD. What a waste of energy. What a sad, trivial thing to lose 100% of all her dignity and credibility for. Don't be that person, y'all. You want to be remembered for something better. Well, you do, don't you? DON'T YOU?
I hope to see you all at BlogHer. Just look for the frumpiest attendee; that'll be me. I shall be wrangling a microphone, pimping my brands and having a blast, eating what's put before me, saying 'hello' to strangers, learning lots of great stuff, seeing lots of wonderful people, walking around in a half-daze (small town girl in the big city, etc) taking it all in, gawking, and hoping to meet YOU. I'll be the one in the comfortable shoes and jeans. And some kind of shirt – don't be like that, now!
Related Posts
More Like This
Recent Posts
by Jane Byers Goodwin
There's no better vehicle to bring the family together than the Chevy Traverse. It's the ultimate family vehicle, and the inspiration behind the tales that these bloggers are sharing about those special moments spent with their families. Check out the posts to see just how different, and, in many ways, the same, family time is nowadays as compared to when the bloggers were younger.
Read more
Most Popular
on BlogHer Conferences