BlogHer Buddy Intervention
According to Webster, "...a virtual intervention must be attempted when bloggers on www.BlogHer.com feel excluded from virtual dinner party invite lists and begin obsessive body improvement plans due to resultant feelings of low self esteem."
By now, if you hang out on the web like I do and have been paying attention to this week's announcement of the prestigious Laine Griffin Versatile Blogger Birthday Dinner Party Awards, you are well aware of the upset that occurred when jet set socialite and Registered Nurse, ElaineR.N., was not included in the list of award winners.
As Ms. Griffin opened each sealed envelope in turn and called out the names of the fourteen winners, everyone except ElaineR.N. was pleased as punch as they rushed the stage in their 1950's cocktail dresses, all in pastel colors with layers and layers of nylon net beneath, to accept their awards.
The sentiments of Sally Fields accepting her Academy Award
in 1980 were echoed by all fourteen Laine Griffin Versatile
Blogger Award Winners on Tuesday as ElaineR.N. tearfully
watched from the audience.
The reason I am writing now, however, is not to continue with the noisy party planning, throwing around cases of red and white wine, that is going on in comments below Ms. Griffin's post, but to warn you that an immediate group BlogHer intervention is required for ElaineR.N., as coincidentally she has begun to blog on what she claims to be, needed beach body improvements.
All this after just having written the post, "Beachin' Good Time No Matter the Size of the Bod." In Beachin' Good time, we see a young, carefree ElaineR.N., flexible, going with the flow and loving herself, no matter the size.
But, after the Versatile Blogger Awards ceremony, we see the same ElaineR.N. commenting, after her return from the beach, "I just saw saw the photos. WHEW!! I sure have packed on the pounds over the past year. Enough is enough and I will be attending Weight Watchers in about 45 minutes. Can't believe how fat around the middle I have become. YUCH and so unhealthy."
She can't get to Weight Watchers fast enough.
Now, at great expense and inconvenience, I have been able to obtain one of the photos from Elaine's recent trip to the beach. I ask you, is there any need for her concern with body image?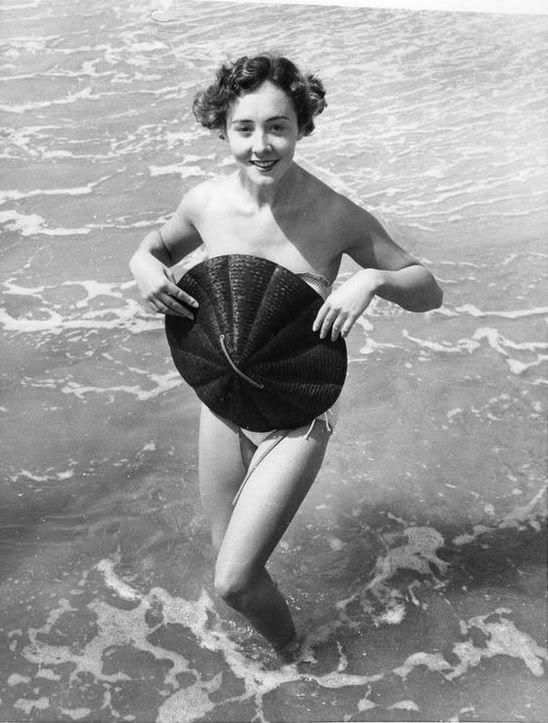 I think not.
Bloggers to your keyboards! It is time to exercise your comment fingers and let ElaineR.N. know that she looks good in a bathing suit...and hat...and these crazy thoughts about her excess flab around the middle are just that: crazy thoughts.
And, furthermore, comment that she is WELCOMED to come to Laine Griffin's Virtual Birthday Dinner Party as long as she doesn't throw food and embarrass us.
Thank you for interest and your time. You will make a little Nurse very happy. :)
SunbonnetSmart.com is authored by a little bird who loves to lure unsuspecting BlogHer bloggers to her web site.
COMMENTS
Recent Posts
by SunbonnetSmart.com
Most Popular
We asked our bloggers to craft some recipes from the different Success® Rice flavors and tell us about it. Check out their ideas and you could win a $100 Visa gift card!
Read more
Lean Pockets have no artificial flavors, a good source of protein & have 100% real cheese. Read our bloggers posts where they will tell you their guilt free experiences with Lean Pockets. Plus get a chance to win $100!
Read more