BlogHer Food Conference and if You've Cooked Okra, You Might Be a Foodie
By the time you read this post, the BlogHer Food Blogging Conference will have ended after lots of sharing of blogging knowledge and rhapsodizing over interesting things people have blogged about. I'm writing this in advance so I can't discuss what the conference was like, but I have no doubt, there'll be plenty of talk about interesting things people have eaten. Some food bloggers are put-off by the word "Foodie" but I think it serves a purpose to distinguish those of us who are thrilled with the pursuit of unusual taste adventures compared to people who just want to eat. I was thinking about that and wondering what unusual food I'd never written about for BlogHer.com, and the next thing you know, a recipe for Fried Okra popped up in my feed reader!
I do consider myself to be a foodie (and don't even mind the word) but I've never cooked Okra. I was intrigued by how good it looked and decided to see what other good-looking okra ideas I could find.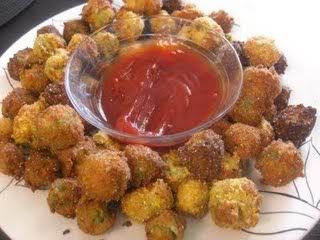 Photo of Southern Fried Okra from Home with Mandy
This very tasty looking Southern Fried Okra from Home with Mandy is the one that got me thinking okra-loving thoughts. A slightly more sophisticated take on fried okra is the Tempura Okra from Cook (almost) Anything at Least Once. You can also make Cajun Fried Okra with Remoulade Sauce from The Well Seasoned Cook if you don't want a coating on your fried okra, or if frying isn't your thing, but you don't mind a bit of coating, consider the the Better Than Fried Okra at Kath Eats Real Food.
Most every type of vegetable tastes great when it's roasted, and at Daily Unadventures in Cooking, Katerina made Roasted Okra that sounds simple and truly looks delicious. There's more Roasted Okra at Fat Free Vegan Kitchen and Spicy Oven Baked Okra at Food in the Main. (Who knew roasted okra was a trend?)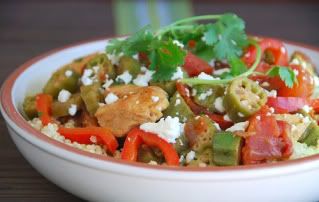 Photo of Quick Chicken and Okra Stew from Food Blogga.
Susan from Food Blogga is another okra fan, and she shares a lot of information about okra in her post about Quick Chicken and Okra Stew. Charlotte at The Great Big Vegetable Challenge even entices kids to eat okra with her Chicken with Okra.
Another take on okra is the Spicy Pickled Okra that Lisa from Homesick Texan decided she liked after a friend chided her into trying them. There's more Smoky Pickled Okra at Desert Candy,
and Pickled Okra at The Slow Cook.

Photo of Dahi Bendi or Okra Curry from Sailu's Kitchen
A simple saute of okra with peppers and tomatoes results in what The Chocolate Lady at In Mol Araan calls The Best Okra Ever. Another okra saute that I think looks wonderful is the Dahi Bendi or Okra Curry from Sailu's Kitchen.
Finally, Okra Gumbo has to be one of the most classic uses of this interesting vegetable and of course it's from a New Orleans blog, Nola Cuisine.
So what's your take on okra? Have you ever cooked it, and do you like it? And if you have a good okra recipe, do share in the comments.
Kalyn Denny also blogs at Kalyn's Kitchen, where she's focused on creating low-glycemic recipes using fresh ingredients, and after seeing all these recipes Kalyn has no idea why she's never cooked okra.
COMMENTS
Recent Posts
by Kalyn Denny