BlogHer Talks With Tim Gunn About Fashion, Style, and Making It Work
This past weekend, style guru Tim Gunn made an appearance at BlogHer. He spent two hours meeting and greeting conference participants, signing autographs and posing for photos. Gunn, who is most famous as the co-host of "Project Runway," is also the chief creative office at Liz Claiborne (he's the one who lured Isaac Mizrahi away from Target, which is truly the best thing to ever happen to Liz Claiborne). From 2000 to 2007, Gunn was the chair of fashion design at Parsons The New School for Design.
Gunn's basic philosophy boils down to his recognizeable tag line: "Make it work!" In A Guide to Quality, Taste, and Style, Gunn writes about the evolution of this philosophy. He watched students, stumped by assignments, abandon the designs they had started midway, in the hopes that the next design would be better. "This practice unnerves me," he writes, "because it's like playing roulette with one's work....Important learning occurs when a struggle is examined and analysed, diagnosed, and a prescription offered. Ergo, make it work."
It's a philosophy that Gunn applies both to design students and makeover candidates. Gunn always finds something in a woman's closet that can work. Sometimes the article in question needs tailoring, while other times it needs the right accessories, but no wardrobe is a complete disaster. The trick, of course, is knowing how to make it work.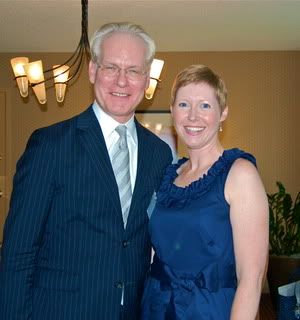 When I sat down to talk with Gunn, I asked about this.  Gunn advocates "three key elements to getting your fashion right, and it has nothing to do with certain items of apparel or colors. It has to do with silhouette, proportion, and fit. And that's different on practically all of us." One-size-fits-all fashion doesn't work for most of us, because we're not all one size (or shape or color). Instead, Gunn says, we need to be aware of what works for us -- for our lives and our bodies and our coloring. "It's developing the critical assessment abilities to really look at yourself objectively, and this is where I believe a mirror is not our friend. Even a three way mirror." 
And then he told me an interesting story: Earlier in the day, when he was signing autographs in the BlogHer expo hall, a woman told him about seeing a video of herself, shot the night before, on YouTube. She was horrified by how bad her outfit looked. "She was able to objectify the information because she had what I would call the equivalent of an out of body experience. She's looking at this person on television, or on the computer screen, and was able to bring that critical analysis to it. And she told me very articulately what was wrong with the outfit. And I said, 'I have no doubt that you're correct.'" 
But how can the rest of us come to that moment of clarity -- short of videotaping everything we wear each day and watching our not-so-secret footage on the Internet? We can seek outside help, but Gunn does not advocate hiring a stylist. He is also cautious about shopping with a friend: "If one has a friend who is knowledgeable and can be honest, that's very very useful. And it shouldn't be a friend you want to look like because you may not be able to look like that person." Instead, he advises women to find a fashion icon to use as a touchpoint. 
"If you can find an icon who is close to your own size, shape and coloring, and I think that it's not impossible, then see what works for them," he says. "And it's not to say that they're always right. Be critical of that person -- what wasn't right about it? Jennifer Hudson -- she's a good example, she makes a lot of fashion mistakes. You know what she told me on the red carpet? She said, 'You know when I make mistakes? It's when I listen to other people!' She said, 'I need to learn to listen to my own voice.'"
Gunn also talked about why Michelle Obama's status as a fashion icon. "I don't think anyone has had a more profound impact upon how Americans think about fashion than Mrs. Obama. No one," he says. 
"There's a frequent tendency to compare her to Jackie Kennedy. I disagree, vehemently. Jackie Kennedy was a rare hothouse flower who stood under a bell jar and really favored European designers. Michelle Obama is the antithesis. She is someone who projects an image of accessibility; you feel like you could run up and give her a big hug," he says. "And she's wearing mid-tier labels, which are not inexpensive, but they're not -- but it's not designer ready-to-wear either and so she's wearing clothes that people can go out and buy, real people can. And it helps that she's a woman who has ... the statuesque attribute, but she's also a full figured woman, so she has a real shape, and she dresses fabulously and never looks inappropriate in my view and just knows what she looks good in and works it."
While Mrs. Obama's style isn't appropriate for every woman, Gunn says, "she's a great model for women everywhere. And the model really is know who you are, know what you look good in, and do that. I mean, it's really the semiotics of clothes."
What does he mean by that? "The clothes we wear really do send a message about how the world perceives us, and I believe it's our responsibility to be responsible for how we present ourselves to the world," says Gunn. "Good, bad, or indifferent, just own it, and don't make apologies about it, don't defend it necessarily, just know that most people that see you aren't going to interact with you, and they're going to make a judgement about you."
Gunn's appearance made the Chicago Tribune's BlogHer recap -- but only as one of many terrific parts of the 2009 conference. 
Carol Calacci of Second City Style stopped by to have her photo snapped with Tim in the Tide booth. 
Jenny Rapson of Blissfully Domestic hung with Tim on Saturday night -- and had her shoes complimented (they're really cute!).
Susan Wagner writes about fashion at The Working Closet and about chic suburban living at Friday Playdate. She wants to thank Tim Gunn for his time, and BlogHer's Erin Groh and the lovely people at Tide for making the interview possible.
COMMENTS
Recent Posts
by Susan Wagner