BlogHer's Lois Lanes Show Press Passes
2012 National Political Conventions
APPLICATION DEADLINE CLOSED APRIL 15, 2012
Press credentials for magazines, newsletters, non-daily newspapers, and online publications for the National Political Conventions are handled through the Senate Periodical Press Gallery. All correspondents interested in obtaining credentials should first read and review the rules and regulations of the Periodical Press Gallery.
Only one designated person per organization should complete an application.
If you believe that you and your publication qualify for convention credentials, begin the application process by clicking on the appropriate link below:
Domestic Publication Application Instructions
Foreign Publication Application Instructions
The Senate Periodical Press Gallery is not responsible for applications submitted to the incorrect gallery. Please make sure you are applying to the correct gallery:
Senate Daily Press Gallery (If you work for a daily print organization).

Senate Photographers Gallery (If you are a photographer).

House Radio/TV Gallery (If you work for a web page and have significant technical requirements for streaming video and audio).
If the Periodical Press Gallery has not received an organization's application by the deadline, it will not be honored.
Reminder: All correspondents wearing a convention press pass must be engaged in the gathering and reporting of news, dress in professional attire, and adhere to journalist standards of integrity and conduct at all times. Organizations are responsible for all credentials issued to them and for the conduct of anyone holding their credentials. http://www.senate.gov/galleries/pdcl/conventions2012.html
A Press Pass. Wow. A Press Pass.
Even though I had been to BlogHer '12 with a bunch of journalists, lawyers, nurses and doctors also acting as BlogHers, I don't think the magnitude of our BlogHer accomplishments hit me until I saw BlogHer Kathryn Finney's photo of BlogHer Editor-in-Chief Stacy Morrison recording Newt Gingrich's reply at the Republican National Convention in August, 2012. There she was, and all I could think of was,"OMGoodness! She'd have to have a Press Pass to do that."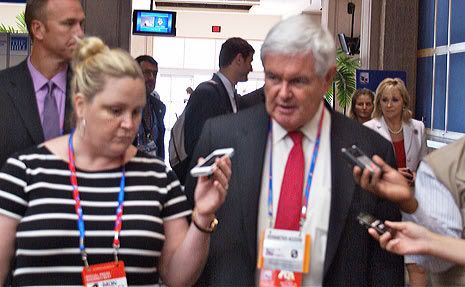 Good ol' Stacy and good ol' Newt.
Yes! Of Course! What was I thinking? She'd have to have a Press Pass to do that. Did I assume that the professional women of BlogHer would what? Sit across the street at the donut shop to cover the goings-ons at both national party conventions by interviewing passers by? No way. They had Press Passes with entitled status at the National Party Conventions.
It's just that, until I saw that photo of good ol' Stacy, I was not completely initiated into what BlogHer has in a national presence. An organization begun in 2005 and primarily championed and managed by women has a national presence on the level of the New York Times, The Chicago Tribune and The Washington Post. BlogHer.com can demand and qualify for a Press Pass. That's a "Wow" with a capital "W." When I saw Kathryn's photo of Stacy and Newt, it hit me like a ton of bricks. Wonderful, wonderful bricks.
So, now that the National Elections are going to be on Tuesday of this week, it's time to further recognize our BlogHer Lois Lanes who have accomplished that of which women in my childhood could only dream, covering national conventions as full fledge reporters "to gather and report the news."
The 2012 Republican National Convention was held in Tampa, Florida
during the week of August 27-30, 2012 in which
delegates
of the Republican Party chose the party's nominees for President and Vice president
for the

November 6, 2012, election

and, most importantly, BlogHer.com was there!
The
2012 Democratic National Convention
was held in
Charlotte, North Carolina

,
from September 4 to 6, 2012, in which
delegates
of the
Democratic Party
chose the party's nominees for
President
and
Vice Presiden
in the November 6, 2012 National Election,
and, most importantly, BlogHer.com was there!
These are just a sample of the articles sent back from the National Party fronts. And, don't forget that BlogHers Denise Tanton and Rita Arens acted as Home Support coordinating efforts to give the teams in the field what they needed to finish the job.
It's so easy to be proud of BlogHer and all of the many thousands of people, mostly women, that work to live and live to work the writing life contributing to BlogHer.com
And it is so easy to point with pride at the women with Press Passes that now cover the news. I'm glad we're to the point where it's often taken for granted.
ADD A COMMENT
Recent Posts
by SunbonnetSmart.com
Most Popular
Chateau Ste. Michelle ALWAYS delivers remarkable wine experiences. We asked our bloggers to try Chateau Ste. Michelle wine and share the story behind their perfect sip. Read their reviews plus get a chance to win $100!
Read more
The enamel of baby teeth and new adult teeth is vulnerable to damage. Help protect your child's teeth for years to come by using ProNamel 6-12 Years Toothpaste. Read our bloggers' posts and see you should start your kids with using ProNamel 6-12 Years Toothpaste plus get a chance to win $100!
Read more