Healing Sexual Abuse
On our BlogHer profiles, our avatars are proudly displayed and also appear every time we comment.
Visually representing ourselves by only a small square is a challenge. Some wondrous creativity comes into play as informative, decorative and sometimes humorous images are produced.
I get a kick every time I go to my profile to check on my own BlogHer Followers, because look who I see right next to each other:
The world's most horrible and most beautiful images appear
side by side. On the left, Kraken, a fearsome mother
of the sea, and on the right, sweet little Barbara Hughes.
Poor, sweet, little Barbara Hughes' image, ending up next to big, mean, ole Kraken. While Kraken's image is fraught with the humor you'll find on her profile, Barbara's image is worlds away in its intent, having deep meaning relevancy to her life journey.
Barbara is well versed in art, both painting and sculpture, and has used her art ability to help in her healing of traumatic childhood sexual abuse.
In addition, she reaches out to others with artistically oriented healing retreats at her studio in Tennessee. Barbara encourages attendees to feel and dissipate unpleasant childhood memories in a safe environment with others that desire healing from child abuse, sexual or otherwise. Forming art materials into expressions of healing allows each person to move their pain outward into a physical form.
Here Barbara works on a maquette for Jesus with Wild Beasts.
Painters plan their work with preliminary sketches while sculptors
plan with small scale three dimensional models called maquettes.
Barbara sculpts with clay in an additive process, adding clay and manipulating it into desire form and expression. Sometimes, if she is creating an edition for sale, she will use her clay sculpture as a base upon which to create a latex and plaster mold. Then, once the mold is ready, she presses clay into the mold to recreate an issue of her original design.
Remembering
One woman is holding another as she remembers her abuse.
When speaking of her sculpture, Remembering, Barbara says, "I had so much grief about my sexual abuse that making a sculpture that said back to me what I was feeling was very healing for me. The desire to have the clay say to me what I am experiencing is a key part of my sculpture."
The expression of art is controlled by the media with which it is presented to the viewer. Artist's materials are physical substances that have physical proprieties, so the artists must remember these limitations and tailor their artwork around them. For instance, earthen clay is a porous substance easily manipulated and formed. It is soluble in water, which is another wonderful quality for the clay to have while the artist is manipulating it.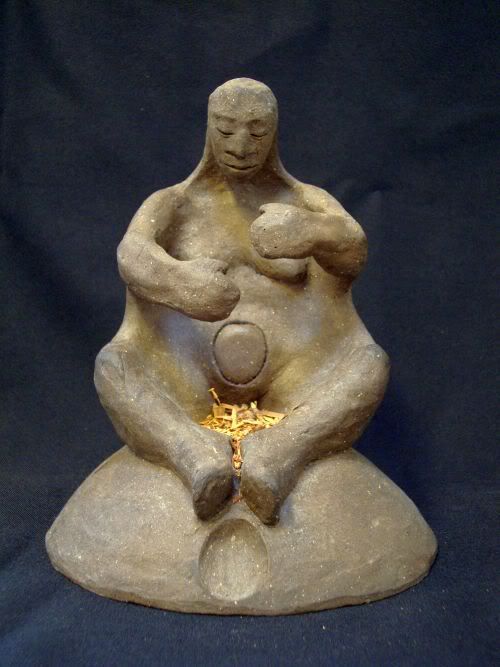 Smoke Ritual

A celebration of menstruation and a ritual around it.
But, this affinity for moisture, a big help while the piece is in progress, also means that the clay, once dry, will absorb moisture if the finished piece is moved to a humid location. So, the artist fires the clay at high temperatures in an oven called a kiln. This high firing eliminates this absorptive quality and makes the artwork impervious to water. Firing also chemically changes the clay into a hard, strong structure.
"These sculptures are made free standing in clay." Barbara shares that, "Sometimes I use a temporary outer armature while the clay is drying a little. An inside armature would make the clay break because it shrinks as it dries."
Commenting on her inspiration, she continues, "Sometimes, it is a power greater than me that makes it happen, and sometimes it turns out differently from what I had planned."
Resting in the Woundedness of God
When thinking about her work, Resting in the Woundedness of God, Barbara said that, "This is a healing piece I did. The only way I could understand how God could be a compassionate God in the light of my and many other's abuse is to get that God suffers along with us - that God is wounded."
The physical pain a sexual abuse victim suffers is compounded by accompanying emotional pain. If a person is a child when they are compromised, then the betrayal by a trusted adult or older child leaves many trust issues behind. Sometimes, these issues do not become open emotional wounds until much later in a person's life. The child that once had a strong natural urge to trust and obey, has trouble trusting. Working with people in authority can also become very fearsome.
Barbara's healing retreats use the arts to creatively move the pain from physical and emotional abuse to a tangible display outside the mind and body. Her workshops take place at her Rahamim Retreat & Clayhouse, named for the Hebrew word for womb, "Rahamim."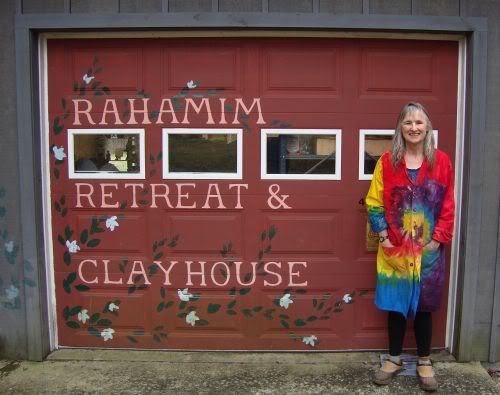 COMING SOON! Saturday, March 17, 2012
Nurturing the Child Within
a day long Art Retreat
10am to 4pm.
The Rahamin Retreat & Clayhouse is an art studio and retreat space located in the beautiful mountains of the Cumberland Plateau in middle Tennessee between Nashville and Chattanooga.
Barbara Hughes leads art and spirituality retreats, some of which are for survivors of childhood sexual abuse or other childhood trauma or pain. These retreats have CAREFUL BOUNDARIES, and provide a safe place to take the next step in healing. Simple ART MEDITATIONS USING A VARIETY OF ART MEDIA require no artistic skill. There is time for sharing and time for quiet.
Barbara also gives art retreats at other venues around the country.
For more information, go here.
Barbara has painted visually luscious cards which she
sells on her web site to benefit CASA, the Center for
the Prevention of Abuse and Violence, an organization
that has an effective program for helping to prevent
childhood sexual abuse.
To order, please visit here.
Barbara Hughes has traveled to Tanzania, Africa.
In the next post, Barbara will share her paintings
and sculptures of the people she met.
SunbonnetSmart.com is authored by a little bird who loves to lure unsuspecting BlogHer bloggers to her web site.
Trending Now
More Like This
Recent Posts
by SunbonnetSmart.com
Mom has a lot to check off her list this Summer, and Kellogg's cereal can help her get it done. How will you make the most of your Summer? Check out our blog posts as we share with you inspirational ideas for celebrating the moments of magic that will happen during this activity-filled time of year! PLUS enter for a chance to win as $100 Walmart gift card!
Read more