Blueberry Strata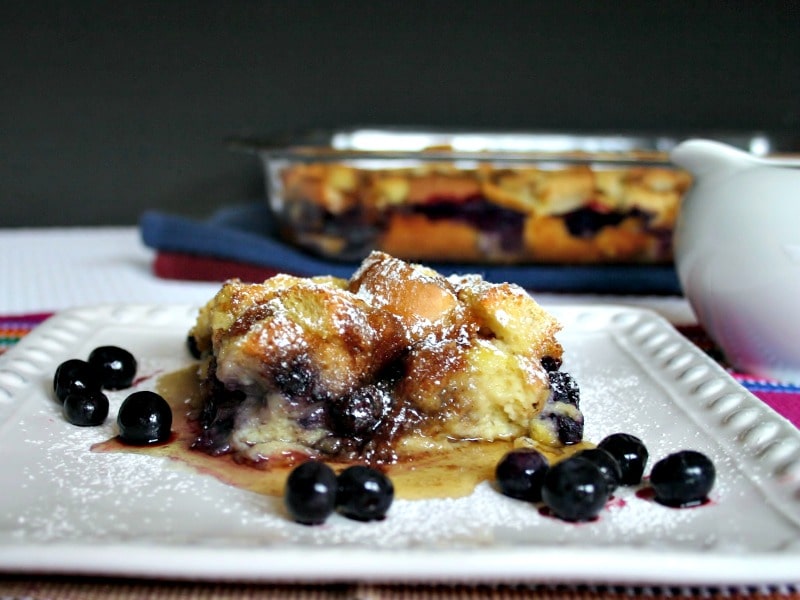 Blueberry Strata is a delicious make-ahead breakfast recipe shared with me by Janssen Park Place Bed & Breakfast innkeepers, John and Jolynn. After a night chilling in the fridge, this mixture of cubed bread, berries, and whipped eggs turns into a fluffy French-toast-like-good-enough-for-company weekend breakfast. Serve with a side of bacon and top with powdered sugar or maple syrup, or both!
Ingredients
1 cup brown sugar
1 ¾ tsp. cinnamon
¼ cup melted butter
8 slices Texas Toast, cubed (or 12 slices bread)
1 ½ cups fresh blueberries (frozen ok)
6 eggs
1 ¾ cups milk
1 tsp. vanilla
1 ½ tsp. salt
Maple syrup
Instructions
Combine brown sugar, cinnamon and melted butter. Mix well.
Sprinkle ⅓ of mixture evenly in bottom of 9×13 baking dish. Cover mixture with 4/6 slices of cubed bread. Sprinkle ⅓ of sugar mixture over bread and scatter blueberries on top. Place remaining bread on fruit. Sprinkle with remaining sugar mixture.
Beat eggs, milk, vanilla and salt together and pour evenly over bread. Cover with plastic wrap and press down lightly. Refrigerate overnight.
Bake uncovered at 350 degrees for 40-45 minutes until puffed and golden.
Serve with maple syrup.
Sheila Thigpen
lifeloveandgoodfood.com
Comments
Recent Posts
by LifeLoveAndGoodFood
Help protect your family from the transmission of harmful bacteria and viruses! Use Lysol's Full Bathroom Range to remove soap scum, lime scale, and everyday dirt and grime to leave your bathroom smelling clean and fresh.
Read more
Recent Comments
on Baking