Book Excerpt: White Rogue by Stephen Langford, Dr. David Fett & Connie Malcolm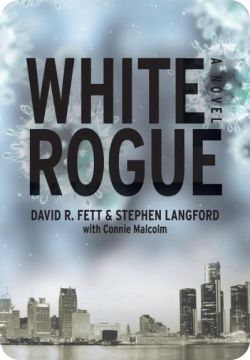 Title: White Rogue
Genre: Spy Thriller
Author: Dr. David R. Fett, Stephen Langford & Connie Malcolm
Publisher: CreateSpace
Pages: 254
Language: English
ISBN-10: 1481995510
ISBN-13: 978-1481995511
Purchase at AMAZON
Cold War era biological experiments are resurrected and after Boston experiences a seemingly inexplicable bio-terrorist attack, the Center for Disease Control's Dr. Davie Richards and Federal Bureau of Investigation Special Agent Paula Mushari once again join forces to uncover who is behind it. An obscure reference to a Dresden project found amid crash site evidence marks them both for execution. Paula and Dave are forced to leave Boston in the middle of the night and head to Washington, D.C.,where they soon find that anyone they contact also becomes the target of assassins. When the daughter of the CDC's director is taken hostage, Dave and Paula come face to face with an evil that forces them to question the very nature of duty and service to country. With the help of one man, they learn the true meaning of dark operatives while they desperately try to stop another bio-attack from happening.
Book Excerpt:
There was a chill in the morning air. A marine layer had moved into the Bay Area of San Francisco, creating a soft mist off in the distance as Anna looked up the street. Anna Wheat was late to her job at one of the downtown branches of Bank of America. She so wanted to be on time that she wished she could just jog the rest of the way, but her three-inch heels made that idea more comical than practical. She had been a teller for the last two years and had been in line for a promotion, but like most things in the last few days, it had stalled. Anna knew it wasn't just her bosses were who preoccupied. It seemed as though everyone in the country was distracted with the Cuban Missile Crisis. Coworkers chatted about the evening news instead of last weekend's football games. Married friends told her of their concerns for their kids. And she too felt on edge from the constant news bulletins that came across the radio and filled the morning and evening TV news reports. Anna just wanted to concentrate on her work, start her new job, and be preoccupied with something positive.
She knew the bank's human resources division in Los Angeles was waiting for the paperwork to expedite the change in her employee status from Grade 1 to Grade 3. Anna had done an amazing job that she jumped a pay grade, something that barely had been achieved in the bank's history and even more rarely by a woman. The bank's manager, John Kiley, often cited Annie's accomplishments to other employees, saying that hard work made anything possible and they should all reach for the stars. He was fascinated with the NASA astronauts, and the Space Race with the Soviet Union inspired his language. He would remind any employee that would listen that Americans didn't like settling for anything, and setting goals was the surest way to focus a nation's, or a company's, energies. President John F. Kennedy had set a goal for the country back in 1961, he would remind his staffers, and soon after, on May 5th, Alan Shepherd became the first American in space. The Soviets beat us there, but we were catching up, Mr. Kiley would say.
Mr. Kiley's cheerleading and holding up Anna's promotion as an example didn't go over well with other employees, especially other women. Anna was very young, attractive, and ambitious. And while she liked the attention she earned for her work, she hated the unpleasant glances from the other young tellers and the ashen-haired head teller with the droopy eyelids. Some of the young women would whisper despairingly behind her back, lewd suggestions on how she had moved up the corporate ladder. Anna tried to ignore them and do her job. She wasn't going to let them have the satisfaction of knowing they upset her.
That morning, as she walked along the street, Anna passed a newsstand that featured papers emblazoned with warnings about the Cuban Missile Crisis. There was a palpable fear in the fear in the city and across the country that the missiles placed in Cuba by the Soviet Union and now aimed at the United States would lead to nuclear war, if not by intent, by some accident or miscommunication. Anna's sister in Virginia was so panicked about it that she packed up her kids and drove across the country to Monterrey, California, in order to live with their mother and father until the crisis ended. Anna's personality was the opposite of her sister's. In fact, it was her cool demeanor that made her a perfect fit for the banking world. She always managed to stay calm no matter how upset a customer was.
Comments
More Like This
Recent Posts
by DorothyThompson
Our bloggers use the new ARM & HAMMER™ Truly Radiant™ Collection for a radiant smile. Read their posts where they share a few of their real-life experiences and advice on how to feel radiant day-in and day-out. Plus get a chance to win a $100!
Read more