Book Review – Momentum: Making waves in sexuality, feminism and relationships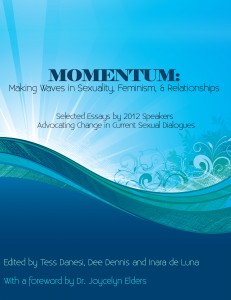 Hasn't the conversation about sex and sexuality progressed further than this? Thinking of the recent spotlight on Rick Santorum, the obvious answer is 'No.' I eagerly read Momentum: Making Waves in Sexuality, Feminism and Relationships and found in this e-book collection of essays from contributors to the Momentum Conference many pearls of thought and practical advice for people across the erotic spectrum, pursuing careers in sex education and innovating in research about sex and the body. With 'changing the conversation about sex in American' as a recurring theme in the collection, I was reminded of the sad necessity of continuing to fight for a country where we can speak about sex and relationships intelligently and without judgment.
If you haven't encountered Momentum Conference, 2012 was its second year. It is organized by bloggers Tess Danesi, Dee Dennis and Inara de Luna, who describe the conference like this:
MOMENTUM provides a safe place to listen, discuss and learn about sexualities and gender without the fear of reprisal or shaming. It is a space for acceptance and appreciation of diversity, including for those in the LGBTQ, sex-work, BDSM and non-monogamous communities.
During MOMENTUM we will discuss ways to bridge the baffling dichotomies our culture creates around sexuality. I particularly enjoyed following the conference in Twitter, where everyday quotes from keynote speaker and author of the Momentum foreword Dr. Jocelyn Elders and others flowed my way via the #mcon hastag. Back to the e-book.
Some of these twenty-one essays (and one poem) are a handbook of practical advice for activists in the realm of sex education and sexual health (and all the activism in-between) (Carol Queen, Joan Price, Lara Riscol) and are helpful tools for those wanting to self-publish (Allison Moon), network and further their careers in sexology (Bill Taverner). Other essays are conversation starters about understanding our own sexual identities (Avory Faucette) and helpful advice on how to explore non-traditional models of erotic expression and loving…politely (Tammy Nelson, Cunning Minx).
The three pieces that stood out were by Lara Riscol (Culture Warrior vs Sex for Pleasure: Changing the Sexual Narrative), Audacia Ray (What the Sex Positive Movement is Bad for Sex Workers' Rights) and Nadia West (Combating the Silencing of Abuse within the Kink and Sex-Positive Communities). Riscol drove home the point that what we need to fight for is changing the conversation about sex, and articulates it beautifully. I haven't been able to stop thinking about her essay and how it succinctly expresses the heart of the problem with sex in America and the importance of incorporating pleasure into the dialogue. She writes:
Sex for pleasure breeds honesty, respect, and responsibility. Otherwise the ultimate fallout is simply not pleasurable. Culture warriors don't stop sex, though they can make pleasure less attainable. America's war on sex is really a war on conversation.
When President Clinton's U.S. Surgeon General Joycelyn Elders answered a reporter's question on HIV prevention that, yes, maybe masturbation should be taught as a healthy part of sexuality, she was forced to resign. Her successor Dr. David Satcher - also a pioneering African American physician from the south - released under President Bush the first-ever Call to Action to Promote Sexual Health and Responsible Sexual Behavior to begin a national dialogue "with respect for diversity" and "for what science shows is effective." Outraged chastity crusaders pounced. End of conversation.
Audacia Ray's piece illuminates the importance of a balanced narrative when engaging in activism. She shows why it is important to have problematic and negative experiences told alongside tales of the 'Happy Hooker' in order to advocate for rights that do not only address a certain class of sex worker. Of course, problematizing a narrative means that your listener has to be willing and open to objectively considering what you are saying. In a liberal society, one would assume it a given that we can explore polarizing subjects outside of a dichotomy, ie Happy Hooker vs. Exploited Victim, but we can't. And we're back to changing the conversation. Here's a bit from her essay:
No one should ever, by economic constraint or any kind of interpersonal force, have to do sex work who does not like sex, who is not cut out for a life of sexual generosity (however attractively high the fee charged for it). (Whores and Other Feminists, Jill Nagle and Carol Queen eds., p. 134).
But the reality is that people who don't like sex, or don't like having sex with strangers, or aren't sexually oriented toward the gender of the clients they see, or don't like doing sexualized performances, work in the sex industry every day. And it is just that parenthetical "attractively high [fee]" that is the reason for their actions. For the majority of people who work in the sex industry, money, not sex, is the driving factor. Until a day comes when jobs are available that have wages that are competitive with the sex industry, particularly for cis and trans women, people of color, and young people who need to get out of unstable or violent housing situations, many people will sell or trade sex.
Last, Nadia West reminds us that victims of violence can be looked upon with suspicion irrespective of the community they are in. Thinking back to SlutWalk's aim to change the narrative around rape and slut-shaming, West suggests that even in communities that are built on a motto of 'safe, sane, consensual' activity and that believe in respecting boundaries are not exempt from crumbling when a person accuses another person of violence or rape. This story can't be told enough. There are too many women and men who suffer silently at the hands of violent people who find themselves without the support of their friends and are treated with suspicion when they come forward. Everything she says in her opening paragraph rings true and calling someone 'crazy' or a drama queen is a surprisingly effective way to undermine a sincere bid for help, awareness and, indeed, a bid to keep others safe:
While sexual violence is an issue for people of all genders and the genderqueer, generally the issue involves women (cis and trans) being assaulted by cismen. This essay will focus on that, but keeping everyone involved in the conversation is the only way real change can occur.
I've been witness to, and have experienced firsthand, the silencing of sexual assault, rape or abuse victims within the kink community. Threads about it get deleted from Fetlife. The women who speak up about their experiences getb labeled as "crazy." Sexual violence is still a taboo subject, and victims who speak up are often accused of just trying to drum up "drama." Most people show more concern for the effects of an accusation on the man accused, and don't consider what the woman has experienced. This reaction in the kink community mirrors that of society in general.
I look forward to next year's conference and hope that for those of us who can't travel to it that Tess, Dee and Inara take the time to publish another one of these excellent collections of essays. As an activist, Momentum was essential reading that took the temperature of sex in America for my contemporaries.
More Like This
Recent Posts
by saskiavogel
Del Monte Fruit Burst Squeezers are healthy snacks you can offer your children after a long day at school. 17 moms offer their best back to school snacking and lunch tips. Find some great ideas and get a chance to win a $100 VISA Gift Card on each blog.
Read more
Recent Comments
on Feminism