BRIC Was It, Now EMIC Is the Thing
An interesting twist that separated "Daring for Big Impact" from the dozens of other "future-look" conferences was the inclusion of sessions like "The Pursuit of 21st Century Happiness" which featured Swami Nitya, spiritual guide from the UK, and Han Shan, a "guru" from Thailand, which related opportunities in global change to the personal level.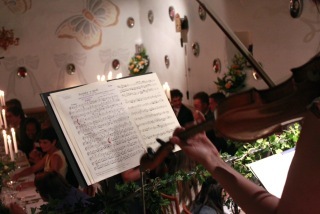 A violinist set the evening atmosphere at the conference dinner.

One other aspect of the conference that is close to my heart was remarks by David Gelber, formerly producer for Harry Bradley of 60 Minutes fame but more recently, creator of the important documentary series Years of Living Dangerously, which is airing on Showtime (perhaps they think it offsets the soft-core porn one usually finds there?). This production is one of the best ever made at illustrating the potentially catastrophic effects of climate change. We screened an episode and a very lively discussion followed, although not surprisingly, there is not much disagreement among this group about how critical it is to proactively respond immediately if civilization as we know it is to continue.
Suffice it to say that this conference stood out from the crowd. The firm Impact Economy and Dr. Martin in particular are to be commended for having the vision to show how different topics add up to a comprehensive picture and three days of intensive and provocative thought about where we go from here and how to do it in a way that will benefit all, not just investors.
Read more from Jennifer Schwab on her Inner Green.
Related Posts
More Like This
Recent Posts
by JenniferSchwab
Our bloggers include LISTERINE Antiseptic in their regular oral health routine. See why and get a chance to win $100.
Read more