Brown Rice Now Appears on the FDA List of Whole Grains
BlogHer Original Post
It wasn't exactly front page news, but earlier this year the FDA officially added brown rice to the list of foods that can be labeled whole grains. Previously rules about fiber content had kept brown rice from making the list. Of course you may be scratching your head if you already considered brown rice to be a whole grain, but this new ruling makes it crystal clear that eating brown rice is a very good thing.
Some people find it hard to get used to the more robust flavor of brown rice as opposed to plain white rice, but personally I love brown rice. My favorite grocery store in Salt Lake recently started offering brown rice sushi in the take-out department, and now when I go grocery shopping, I can't resist buying resist some. Brown rice is not only more nutritious, it's also lower on the glycemic index than any type of white rice. About the only drawback to brown rice is the longer cooking time, but using a rice cooker makes cooking the rice the easiest part of making a healthy dinner. Some cooks also recommend cooking brown rice in a pressure cooker if you want to save time. If you've only cooked white rice, I'm encouraging you to try including more brown rice in your diet, and here are some recipe ideas to get you started.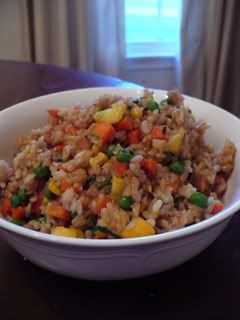 Main Dishes Featuring Brown Rice
Gluten Free Fried Brown Rice
from Gluten Free Cooking School (pictured above)
Wild and Brown Rice Stuffed Peppers
from Redacted Recipes
Spinach Rice Gratin
from 101 Cookbooks
Brown Rice and Broccoli Cheddar Pie
from Everybody Likes Sandwiches
Crockpot Chicken and Brown Rice Casserole
from A Year of Crockpotting
Veggie Paella with Brown Rice
from Green Gourmet Giraffe
Brown Rice as a Side Dish
Lentils and Brown Rice from The Perfect Pantry
Rapini with Brown Rice and Chickpeas from The Well-Seasoned Cook
Quick Veggie Brown Rice from Dani Spies
Cilantro-Lime Brown Rice from Mighty Foods
Plain Old Brown Rice Perfectly Cooked from Rah Cha Chow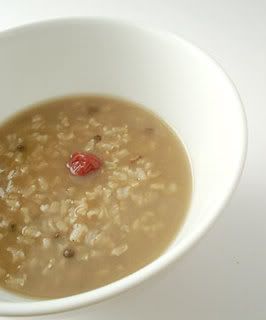 More Brown Rice Ideas
Brown Rice and Green Tea Porridge
from Just Hungry (pictured above)
Nupur from One Hot Stove shares
Five Ideas for Using Brown Rice
Brown Rice Pancakes
from Canela & Comino
Really Good Sandwich Bread with Brown Rice Flour
from Gluten Free Cooking School
Brown Rice Pudding
from This Mama Cooks
Barley Brown Rice Dosa
from Smita Serves You Right
Mark Bittman talks about
How to Cook Brown Rice
in the New York Times
You can find a lot more brown rice recipes at Food Blog Search.
BlogHer readers, how do you feel about brown vs. white rice? And of course, if you have a good recipe idea using brown rice, do share your recipe or the link with us in the comments.
Kalyn Denny writes about food and at BlogHer.com and shares her passion for cooking at Kalyn's Kitchen. Kalyn gets her brown rice fix in dishes like Stuffed Zucchini with Brown Rice and Lentil Soup with Ground Beef and Brown Rice.
Comments
More Like This
Recent Posts
by Kalyn Denny
Help protect your family from the transmission of harmful bacteria and viruses! Use Lysol's Full Bathroom Range to remove soap scum, lime scale, and everyday dirt and grime to leave your bathroom smelling clean and fresh.
Read more
FoodSaver® Reviews & Giveaways
Save time, money and space with the FoodSaver® Vacuum Sealing System! Air is the enemy of freshness and FoodSaver® vacuum sealers remove and lock out air and moisture. It keeps food fresh up to 5x longer! Read our bloggers' posts and know more about FoodSaver® plus get a chance to win $100!