Buffalo Chicken Queso
Featured Member Post
I love anything with buffalo hot sauce in it. When we had this dip in Portsmouth, I knew I had to recreate it at home. I absolutely love cream cheese dips because they are so easy! This one is unique because it actually has shredded chicken it!
Ingredients:
1 (8 oz) package cream cheese
1 cup shredded chicken
1/2 cup buffalo sauce
1-1/2 cups mozzarella cheese
Tortilla chips
Recipe:
Preheat oven to 350 degrees.
Mix together cream cheese, chicken, buffalo sauce, and 1 cup of mozzarella cheese.
Spray a baking dish with non stick cooking spray.
Place cream cheese mixture in dish.
Top cream cheese with remaining mozarella cheese.
Bake for approx 15 minutes.
Serve with tortilla chips.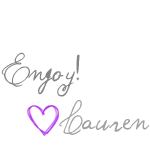 Comments
More Like This
Recent Posts
by girlsgonefood
Lean Cuisine believes that women should be valued for their accomplishments as opposed to their weight/appearance. Lean Cuisine's new brand campaign Feed Your PhenomenalTM reflects its new brand purpose: to feed the greatness in every woman. Check out our bloggers' posts and see how they measure their true worth plus learn how you could win a $100.
Read more