Follow the Bullying Policy
The haste of Sunday evening was upon us. The girls were home a night early because their dad had an early flight the next morning. I could hear lively activity from their rooms as they unpacked their clothes from suitcases and tossed heavy text books into backpacks. Their voices buzzed as they made arrangements for sharing the bathroom. Then I heard the pound of footsteps going up the stairs. It was decided. Someone was heading to the shower. Good.
As I finished the dishes, I listened. Silence. But I felt someone was in the room. I turned around to Sophia, who was then 12 years old, standing in the middle of the kitchen staring at me. Her creased brow framed vacant eyes.
I said, "Hey! How was play rehearsal?"
She said, "Fine."
Hearing the word "fine" was my cue to search her face and eyes with increased effort.
I said, "You look like something is on your mind. What's up?"
She was two months into being a new student in the public middle school. A Montessori kid since the age of three, she adjusted to the traditional environment better than I expected. She hadn't yet found her friend group, but from what I surmised from our talks, she was working through it with strength and grace. And I was proud of her for joining the crew for the fall play after
auditioning and not getting cast in a role.
She replied, "On Friday, at rehearsal, my bag got stolen."
She looked terrified as she spoke and I thought maybe she was worried I would be angry at her.
Trying to put her at ease, I soothingly said, "That's a bummer. I know you didn't expect that to happen there."

I surely didn't.
I barely afforded acquiring residence in our upper-middle class neighborhood. Even though our house was situated in the less-than-desirable northeast corner, with our backyard bordering a precarious part of the city, I was certain of the girls' safety at school. Meaning, I am sure someone stealing her bag was not on Sophia's list of worries each day when she headed to school, nor was it on mine.
She became more disturbed and emotional as she proceeded to tell me what happened:
In order to get some change for the vending machine, Sophia went to the row of seats where she placed her bag at the beginning of rehearsal. When she couldn't find her bag, she asked the girl sitting in the next row if she saw it. The girl replied, "Alice* took it."


Sophia looked beyond the girl to the theater doors and saw Alice strolling in with her bag.


Sophia confronted her, Alice handed over the bag, and Sophia examined it, finding all of her snacks missing and her money gone. Sophia said, "I don't care about the snacks, but where's my money?"


Alice said, "Oh. I used it to get a few things from the vending machine. Here's your change."


Alice laughed.


Sophia finished rehearsal, but failed to tell anyone about the incident before leaving. She didn't tell her dad. And she waited until Sunday night to tell me.
Of course, we talked. And talked. And talked. About a lot of stuff. Especially about telling a teacher when incidents like that happen. And especially about telling her dad or me whenever she is victimized.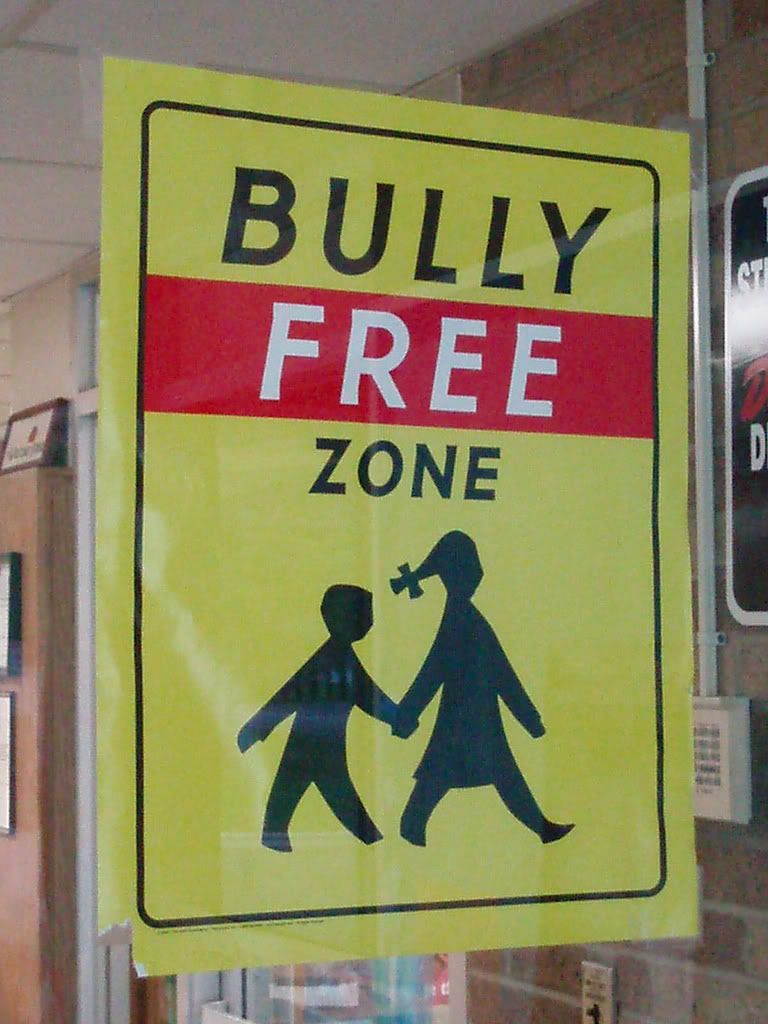 Later that night, once the girls were in bed, I emailed the director to tell of what transpired. I got an immediate reply explaining that bullying was not tolerated in the department and that the school had a strict policy against it. I was assured it would be handled.
After I picked up Sophia from rehearsal on Monday, I inquired about how the situation was handled. Sophia articulated that nothing was mentioned.
Several emails later, all of which were copied to the assistant principal and the principal, I was again assured by the director that the situation would be dealt with. I expressed my gratitude and my concern for Alice, emphasizing that my intent was not to cause Alice harm, but to make sure she was supported. In an attempt to create a school/family relationship, I also stressed that I wanted the director to talk to Sophia about speaking up to someone of authority.
After I picked up Sophia from rehearsal on Tuesday, I inquired about how the situation was handled. She said that Alice was banned from participating in the theater department for the remainder of her school career and also banned from entering the theater until after the play's run.
But, for the rest of the week, guess who was at rehearsal.
Alice.
She sat quietly in the audience and made no disturbances, but she was there. She didn't communicate with Sophia, but she was there. And the director said nothing to her.
Where her parents called? Did they know? Was Alice saying she was going to rehearsal as usual? Why was the director passing up an opportunity to lend Alice support by adhering to the guidelines of the consequences? What about the safety of my daughter? And why would Sophia speak up in the future if this was how it was handled?
So much for people of authority.
I went to the school's website and examined every inch of the official code of conduct. I became familiar with every step of every procedure relating to bullying incidents and found the school had followed none.
Then, I noticed a link.
I clicked. I filled out the lengthy official bullying incident report. I clicked "submit".
Less than five minutes later, my phone rang. It was the assistant principal. The assistant principal who failed to respond to any of my emails. The assistant principal who was aware of what was going on and did nothing to support the theater director, the students, or the students' families.
After the pleasant greetings were over, he said, "Ms. Speranza, are you sure this is the direction you'd like to go with this?"
I said, "I already went in that direction. The form is submitted, obviously."
He said, "OK."
I said, "Please be sure that Alice gets support and that Sophia is given the message to come to people with authority when she needs help."
He said, "I will."
I do not know what he did to help Alice. In order to help Sophia, he came to her fifth period classroom, stood in the doorway, and publicly called her out of class. Standing in the middle of the hall, he proceeded to give her a brief lecture about getting help.
She was embarrassed, to say the least, and I was put onto her list of evils.
Nice job, AP.
According to the policy handbook, after submitting an official report of bullying, I was to receive a call from the school district and a written follow-up report. Over a year has passed and I am still waiting for my phone to ring and for an envelope printed with the school district's return address in the upper left hand corner to arrive in the mail.
Tomorrow, Sophia's entire middle school is attending a screening of the movie
Bully.
I am a skeptic. But, I am also grateful.
They have talks scheduled for after the screening. I just hope the discussion leaders mention to the kids that just because the families in the film are of low socio-economic status, it doesn't mean rich kids aren't bullies, too.
*name changed
Kimberly S. at Sperk*
photo credit: Eddie~S via photo pin cc
Comments
More Like This
Recent Posts
by Kimberly S.
Children have unique nutritional needs that set the stage for their health later in life. Understanding essential nutrients, and ensuring that your kids are getting enough of them, will help support optimal health now and in the future. Read our blogger's post and see how you can add essential nutrients to your children's diet.
Read more
Marshalls Reviews & Giveaway
Have you shopped for your children's Back to School outfits? Marshalls carries the latest trends that your stylish kids will love! Read our bloggers' reviews and see why they chose Marshalls plus get a chance to win a $100 Marshalls gift card.
Recent Comments
on Family