Butternut Squash Enchiladas from Vintage Mixer
BlogHer Original Post
Any recipe with the word "enchiladas" in the title sounds good to me, so of course I was excited when I spotted these Butternut Squash Enchiladas from Vintage Mixer. The enchiladas are filled with cooked squash, corn, and two types of cheese and then baked in a flavorful Salsa Verde sauce. Sounds to me like a perfect main dish for Meatless Monday!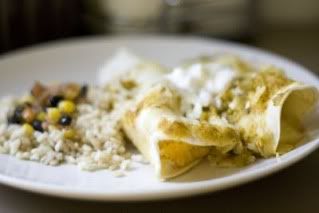 Photo of Butternut Squash Enchiladas from Vintage Mixer
Get the recipe for Butternut Squash Enchiladas from Vintage Mixer.
Have you made something interesting for Meatless Monday this week? If so please share the recipe link or your recipe in the comments. You can find more Meatless Monday recipes by clicking the tag Meatless Mondays.
BlogHer Contributing Editor Kalyn Denny also blogs at Kalyn's Kitchen, where she specializes in low-glycemic recipes using fresh ingredients. Kalyn probably won't ever be a vegetarian, but she does love to make meatless dishes such as Seven Layer Tostadas.
Trending Now
Recent Posts
by Kalyn Denny
Mom has a lot to check off her list this Summer, and Kellogg's cereal can help her get it done. How will you make the most of your Summer? Check out our blog posts as we share with you inspirational ideas for celebrating the moments of magic that will happen during this activity-filled time of year! PLUS enter for a chance to win as $100 Walmart gift card!
Read more
Kelloggs Walmart Shoppers
Bloggers show us how they use cereal to create fun, summer memories. Read their posts and enter for a chance to win $100!