CAPTCHA Later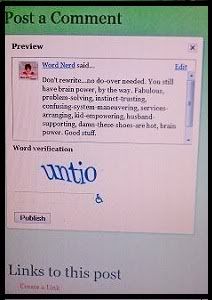 CAPTCHAs are the debil. I don't lovity-love-love them. I don't even likety-like-like them. I find them suckity-suck-sucky.

Okay, I'll stop. That was starting to annoy even me.

Anyway, CAPTCHAs. I'm not a fan. Well, not normally. Today, with the clock ticking away and me clueless as to what to post (freakishly unusual, right?), I went to comment on a blog and the verification word was "squety," and I thought, squety: extraordinarily sweaty to a degree that becomes squishy. Several blogs later, I got "unblyte," thought unblyte: to clean up the crappy side of town, and realized I had myself some bloggity potential.


CAPTCHAs don't suck! They are saving my sorry, NaBloPoMo attempting, blank staring, empty-headed, maybe-I-should-just-post-a-YouTube-video-and-call-it-a-night blogging ass!

I clicked along and jotted down more CAPTCHAs, getting a little annoyed at the blogs that sported clean, easy comment forms without requiring the typing of a nonsensical series of letters in order to tell people that I loved their blogs. You know, the ones I usually like best.


More of today's CAPTCHAs:

pirco: off-brand flooring that is designed to look like hardwood

ferroot: stuff ferrets have for dinner if they decide to become vegetarians

rotmugs: coffee cups that get used for weeks on end without being properly washed—often found in offices inhabited by men

flestive: celebratory environment created by using lush botanicals

automerci: sense of gratitude felt by French women when receiving brand-spanking-new cars with giant bows on top of them, normally seen only in commercials and overly-romantic movies

untio: when Auntie kicks her hubby to the curb

bustoll: fare paid for a mass transit ride across town

coneso: indignant response by a dieter who has been caught and called out on sneaking a late-night ice cream treat


That's it, folks. I promise to try harder tomorrow.



~*~*~*~*~*~*~*~*~*~*~*~*~*~*~*~*~
ADD A COMMENT
Recent Posts
by WordNerdSpeaks
Most Popular
Simply Beverages™ use never-from-concentrate juices in all of their beverages. And they never add any preservatives, colors or artificial flavors. Read our bloggers' posts and find fun beverage recipes you can serve this summer! Plus get a chance to win $100.
Read more
Excedrin® Migraine relieves sensitivity to light, sensitivity to sound, nausea and relieves pain in just 30 minutes. Read our bloggers' posts as they talk about their experiences with migraine and how they cope with it. Plus get a chance to win $100!
Read more