Caramelized Onion & Lentil Gravy and a Side of NaBloPoMo
NaBloPoMo what? National Blog Posting Month – encouraging one to write for the entire month, posting daily, and today I am 4 days into it. It won't be a huge stretch for me, as I write/post normally 5X a week, but still, it takes away that easy slack I get on the weekends. The days where I "catch up" and cook and write for all week. Oops! Means I have to just think more
And create more. And review more of the cookbooks that are piled high on my desk. A good thing really! At least it comes in a good month, when my fall creativity is usually at its highest!
http://www.gazingin.com/2013/11/04/caramelized-onion-lentil-gravy-side-nablopomo/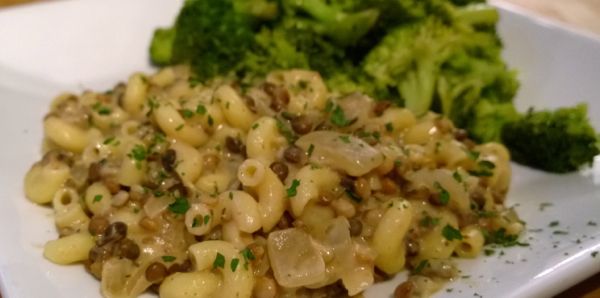 Caramelized Onion & Lentil Gravy
Ingredients:
2 Tbsp olive oil
3 large onions, chopped
Pinch fine sea salt
2 Tbsp all-purpose flour
1 tsp dried thyme
2½ cups vegetable broth
2½ cups cooked lentils
1 tsp brown sugar
½ tsp Dijon mustard
¼ tsp apple cider vinegar
½ cup sour cream
12 ounces pasta, elbow or other small shape (uses gluten-free)
Directions:
Heat oil in a large non-stick skillet over medium. Add in onion and salt, saute for 20 to 30 minutes, till caramelized and golden, stirring every few minutes.
Sprinkle flour and thyme over, work in and cook for a minute or two, whisk in broth, sugar and mustard, let simmer, whisking often for about 5 minutes, or until gravy is thickened. Stir in apple cider vinegar and sour cream, heat through over medium-low. Season to taste.
I served the gravy gently mixed with 12 ounces of cooked pasta for a very lentil-stroganoff experience.
Serves 4 to 6.
PS: OK, you might see I used gluten-free pasta but in this recipe I used regular flour. Why? Well, we are finding Alistaire can have small amounts of gluten. A bit of flour in a whole recipe is OK, but not a gut bomb of pasta. And honestly, I am finding I like certain GF pastas better than wheat ones! They simply feel lighter in the tummy. One could easily enough use brown rice flour or cornstarch for the flour called for.
Trending Now
More Like This
Recent Posts
by SKirkconnell
Sparkling ICE is a bold flavored sparkling water that truly delivers on taste and contains just the right amount of fizz. Read our bloggers' posts and get more details on how you can enter the Flavor Face Off plus find out more about the delicious flavors that Sparkling ICE has to offer.
Read more
Louisiana Seafood Reviews & Giveaway
With a little help from Louisiana Seafood, bloggers share their favorite Louisiana Seafood recipes. Read their posts and enter for a chance to win $100!