Cheezy Kale Snack Bags Packed – Road Trip to the Island
The kids have only been out of school 4 days and asking me for something every 2 min. Well, it feels like every 2 min when you have 6 children sharing the question sessions. What's for Breakfast? Can I go swimming? Can we buy this app? Did you already photograph the cookies? So, can I have one? Is the wi-fi out again? What's for lunch?, etc..
Trying to wrap things up at home and then all 6 kids and I are headed to the Island. Little Gasparilla here we come… We are leaving Dad behind to work and dog sit our 4 maltese (+3 more, Priscilla had puppies), not to mention he gets incredible nauseas when he is on a boat. Haha, who am I kidding, he takes Dramamine to Fly & gets car sick if he is not the driver. So he gets the dogs and I get the 6 kids. 2.5 hrs in the car with kids, a boat ride to the island and then peace for a few days…
If you have kids and travel… you know the importance of having snacks, iPods & iPhones to keep them semi satisfied during the road trip.. I refuse to stop at a gas station for drinks and snacks and walk away with junk and $30 later – I am a planner so I plan for the second I pull out of the driveway and they say "I'm hungry". One of the snacks that ranks the highest with all my children is potato chips. They love them, who doesn't.. My husband used to let the boys eat an entire bag in one sitting before I came along.. shame, shame.. I wanted to bring a chip-like snack that was much healthier than a bag of chips. This is one of mom's "health snacks" they actually eat and LIKE. It should get a kid-approved stamp. We only have a 2.5 hr drive but the snacks will be gone before we get there. Also bringing some Rockin Raw Granola.
Crispy, Healthy & RAW – Tons of nutrients in these babies.
* As I am typing this blog post, I just shouted at my children
"Please, STOP eating the kale, save it for the trip!"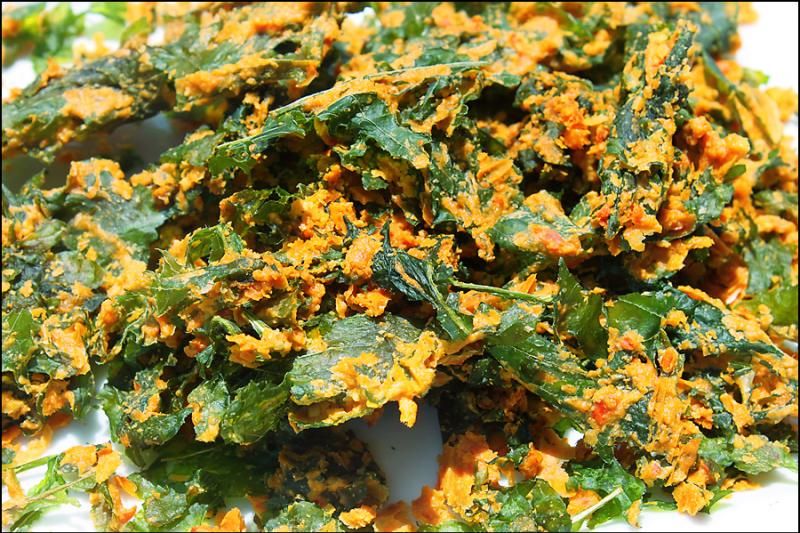 If you are into the "RAW" food at all, this is a common recipe – some people add raw garlic (I think raw garlic is to strong) Some people add agave or honey (I want it cheesy, not sweet)
What if I have a nut allergy? I have also made this same recipe with soaked sunflower seeds instead of cashews and it turned out great!
According to Wikipedia:
Kale is very high in beta carotene, vitamin K, vitamin C, lutein, zeaxanthin and is reasonably rich in calcium. Kale, as with broccoli and other brassicas contain sulforaphane (particularly when chopped or minced), a chemical believed to have potent anti-cancer properties. Along with other brassica vegetables, kale is also a source of Indole-3-carbinol, a chemical which boosts DNA repair in cells and appears to block the growth of cancer cells.
*****************************************************************
Before we became the Real Life Brady Bunch, my children and I would go to the Island at least once a year. We blended families, moved to Nashville, TN and with the boys on the road touring, The beach was no longer an option. Now that we are back home in Florida, we will be taking advantage of this a whole lot more. Look how long it's been since we were there. The girls were 8 yrs old in this picture. They just turned 13. I am sooo excited to be able to take ALL six of my children from now on. Kind of bummed that hubby isn't coming along, but somebody has to stay behind and keep the puppy peace…
NEED MORE ROAD TRIP SNACK IDEAS? Click Here:
Comments
Recent Posts
by taylormademarket
The LG Top-Load Washer has the largest capacity in top load washers in its class while the EasyLoad™ Dryer allows users to easily transfer clothes through the top to minimize bending and dropping clothes on the floor making it easier than ever to drop in and unload laundry! Read more and see how you can simplify the household chores.
Read more
FoodSaver® Reviews & Giveaways
Save time, money and space with the FoodSaver® Vacuum Sealing System! Air is the enemy of freshness and FoodSaver® vacuum sealers remove and lock out air and moisture. It keeps food fresh up to 5x longer! Read our bloggers' posts and know more about FoodSaver® plus get a chance to win $100!