Chickpea Tortilla Soup
This flavorful mexican soup is probably one of the best soups I have had at a restaurant. It was so delicious that I tried to duplicate it. I'm not sure why it's called, 'tortilla soup' when the crispy fried tortilla strips are served as garnishes along with avocado, sour cream and cheese. But in a way it is a good thing because I would not like tortilla strips to get soggy in the soup.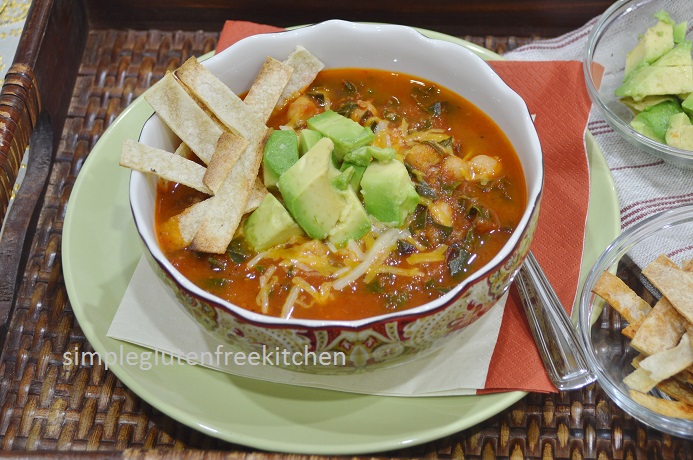 Chickpea Tortilla Soup
Ingredients
Chickpea Soup
1 can (398 ml) fire roasted tomatoes
1 can (398ml) chickpeas, drained and rinsed
2-3 chipotle in adobo sauce
1 bunch chard, chopped, stalks discarded (you will have about heaped 3 cups)
1.5 tsp roasted cumin powder
2 tbsp oil
3 cloves of garlic, chopped
1 medium onion, chopped
4 cups vegetable broth
2 cups water
salt
Garnishes
4 corn tortilla, cut into strips
1 avocado, diced
3/4 cup shredded mixed cheese (cheddar, colby, montrey jack)
1 lime, quartered
Instructions
Preheat oven to 375 °f. Lightly coat an oven tray lined with aluminum foil with oil. Place half of strips on the tray and bake until golden and crisp, about 5-10 minutes. Repeat process for other half of strips.
Heat oil in a pot, saute onions for 2-3 minutes on medium. Add garlic and saute for 30 sec.
Scoop the onion and garlic with a slotted spoon and transfer to the food processor or blender with tomatoes and chipotle pepper. Process until smooth.
Return the pot to medium heat. Add the puree and stir nearly constantly until thickened to the consistency of tomato paste, about 6 minutes.
Add broth and water. Bring it to a boil on high, cover loosely, reduce heat and let simmer for 15-20 minutes to a desired consistency.
Add chickpeas, salt, cumin powder and chard. Boil on medium heat for 5 minutes.
Ladle the soup into bowls, squeeze lime and top with shredded cheese, avocado and tortilla strips.
Comments
More Like This
Recent Posts
by Balvinder
Help protect your family from the transmission of harmful bacteria and viruses! Use Lysol's Full Bathroom Range to remove soap scum, lime scale, and everyday dirt and grime to leave your bathroom smelling clean and fresh.
Read more
Most Popular
on Gluten-Free
Recent Comments
on Gluten-Free