For the Children October 1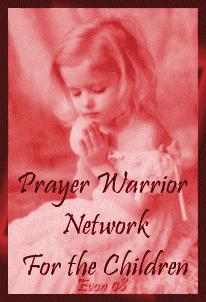 Send
requests or updates to me at this link for them to be included in this
blog and my email. Also you can send me your email address here to be
added to my list or just subscribe to this blog.
Send prayer requests to the Prayer Warrior Network here
prayerwarriornetwork@live.com
To
any of the parents of these children...please forgive me if at times I
have to shorten the posts....my bulletins were getting so long my email
server would not send them out. And instead of making a 3rd bulletin I
am just editing these down some. I think you will find I am still
leaving most of the important info in. Let me know if you have a
problem with this.  
Evon
~~~~~~~~~~~~~~~~~~~~~~~~~~~~~~~~~~~~~
Gavin Owens
 
Wednesday, October 1, 2008
We Are Still Here...
It's
been a long and difficult day -- there is no denying it! We were
originally told that we would be leaving today and then this morning we
learned that the final reading on the fungus has not come back yet,
which means we don't really know what exact anti fungal Gavin should be
on and also means that a new line cannot be placed. We spent the
morning down at Child Life where a very odd yet friendly clown playing
somewhere over the rainbow on her miniature violin almost sent me into
an emotional breakdown :)
It was hard to tell Madison that she
wasn't going home, I even think Gavin was bummed. Adam took a half day
to give me a much needed break outside the hospital, which I enjoyed
but in reality -- I couldn't find a darn thing to do.
So I came back.
The
"plan," which neither Adam and I believe, is to have the line placed
tomorrow. We have an OR time of 11am. We'll see if it happens.
Hopefully my next update will be from Good Ol' Home.
~~~~~~~~~~~~~~~~~~~~~~~~~~~~~~~~~~~~~
Charles Grauber Jr's Updates
October 1
Posted 7 hours ago
Yesterday
the physicians scheduled Charlie's MRI, MRA and sedated echo for 7 am
this morning. They also needed a phenobarbital level so blood was drawn
this morning, a normal level would be 20. The nurses from the CPRU came
to get Charlie at 6:45 am. I carried Charlie into the CPRU while the
anesthesiologist were prepping Charlie and administered the medicine.
There was a fuss this morning on whether or not his IV was properly
working. But I told them to please save and use the one that is
available my baby since Sept 19 has been pricked 32 times. They were
able to use the IV and Charlie 15 minutes later was asleep. I waited in
the waiting room and 2 1/2 hours later I was able to see Charlie, feed
him and give him his phenobarbital. His phenobarital level from this
morning was 24! I'm still waiting for the results of the MRI and MRA
which should be early evening.
Through the rumor mill: We may be discharged tomorrow?
~~~~~~~~~~~~~~~~~~~~~~~~~~~~~~~~~~~~~
Tyler Sincavage
Pray for Tylers liver to be OK!
Tyler's
liver numbers are elevated so he is going for a liver biopsy today.
Please pray for everything to be OK. I am so nervous!
Mandy
~~~~~~~~~~~~~~~~~~~~~~~~~~~~~~~~~~~~~
Taylor Kiser
Taylor
has been doing good all day, now she is sick again. Dr. Moon came in
just minutes ago and told us that her surgery will be October the 10th
her @ Greenville Hospital. They also will have to do another MRI today,
because the one from yesterday did not show the whole leg. I will
update everyone on her progress. We Love you all!!! God Bless Keleigh
~~~~~~~~~~~~~~~~~~~~~~~~~~~~~~~~~~~~~
Matthew Brand
Day +175 - Stem Cell Transplant. Day 230 - Inpatient.
Matthew
had a restful night, the stomach aches gave him a break for a while,
but this morning they are back. Dr. Teachey is changing some of his
stomach meds in the hopes that they help with the pain. Many times
through the last week the pains have gotten so bad and Matthew has been
offered oxycodone, he refuses to take it. He says he will deal with the
pain, so today I asked Dr. Teachey to talk to him about taking it if he
needs it. Matthew is afraid of any kind of opiate, he doesn't want to
become dependent on them. So, he was spoken to about it and he said he
will only take it if the pains get really bad.
Last night we had
another issue arise, at 9 pm the nurse came in and asked me if I had
been emptying Matthew's urinals during the day, of course the answer
was no. It turns out Matthew hadn't peed since 2 in the afternoon. So,
a medication (can't remember the name) was given to him and he peed
about 400 cc during the night. We have no clue why this is happening
again, we will be monitoring this all day.
There is still no
word from the pulmonary team as to when the CT Scan will take place.
They want to get all their ducks in a row before it happens.
I will update again. Keep praying.
God bless,
Cathyie
~~~~~~~~~~~~~~~~~~~~~~~~~~~~~~~~~~~~~
Manning's Updates
manning has taken big steps today
Posted 5 hours ago
Manning
had a good night. He has so much energy he has quit sleeping. He had
his last pheresis treatment this morning. They took out two of his
lines and his Foley Catheter.He did well on the pressure support last
night so they extubated him at about noon today. So far he is doing
well and he is on 2 liters of oxygen with a nose canula. He has been
playing and kicking. He is like a completely different child. It has
been an exciting day for Manning and he has taken some big steps in his
recovery. James had to go back home this morning to return to work so
he missed all the excitement. I just hope and pray that he continues to
progress in a positive direction. Manning being extubated is a huge
deal because he has been on the vent for so long. I may even get to
hold this afternoon if he continues to do well. Please pray that
Manning remains extubated. I am just so happy to see my baby so active.
James and I feel so blessed that our child has been given this
wonderful gift. We are so thankful to the donor family and thanks to
all of you for keeping them in your prayers during their time of loss.
Thanks to all who continue to pray and follow Manning through this
journey. We really appreciate the possitive messages we receieve on his
carepage. It is nice to know that people are thinking about us and that
others care.
~~~~~~~~~~~~~~~~~~~~~~~~~~~~~~~~~~~~~
Maximillian Vaughn's Updates
Really hectic my apologies
Posted 11 hours ago
Again
I'm apologizing for not updating sooner, but anger is the only feeling
I've had. A lot of you understand deeply and I'm so grateful for all
your messages (and some not so, I'll try to plan my tragedies around
certain schedules next time). On a good note, Max's wish .... We
arrived home last night .... Quite a bit hectic trying to get
acclimated and putting all of Max's new meds away was overwhelming. I
never in my life thought I'd be handed a booklet on "Understanding
Childhood Cancer" here it is. He's getting his treatment twice a day at
home, morning and night, along with some GI meds. They've given him
something stronger for the pain so he's asleep for most of the day. He
would like to have a bon fire tonight and make smores (while he's not
so tired.), I told him no problem. We'd make a small/quick one in the
backyard considering he can't afford to get sick.
Getting really
drained or overloaded I don't know which, can't even figure out how to
prioritize important things like where to put The ChemoSafety Emergency
Response Pack at.... uuhg! Sorry to be venting.... We have to go back
either Thursday or Friday for the Rituximab and other treatments.
Cancer really sucks, especially when it's happening to your baby.
~~~~~~~~~~~~~~~~~~~~~~~~~~~~~~~~~~~~~
Matthew Litchfield
Sorry
for not posting earlier, but it has been an extremely difficult day for
me. Jeff is definitely handling things much better than I am.
Things
here are about the same. They started him on high-dose steroids last
night, which might help the inflammation in his lungs and keep him from
having fevers, which will help him to feel better. The problem with the
steroids is that they will further compromise his already weakened
immune system and probably cause the infection to take off and spread.
However, it was the only real option available. Dr. Frangoul stopped by
to check on Matthew today, and he said that the CPAP wouldn't be of any
real benefit at this point.
We really feel that we need a miracle at this point to save Matthew's life.
~~~~~~~~~~~~~~~~~~~~~~~~~~~~~~~~~~~~~
Hannah Nannah
Where
do I start well Hannah went today and got labs done. Her ANC is 2200
thats great . But Baby Hailee is really sick and Mom is too. Are
Vacartion was a blast. I can't tell you how much fun it was . Hannah
& Hailee got so much and did so much there. Just wanted to say
Thank you Make A Wish ! The smile on my girls is face when we got there
. I will never forget . Well Hannah's going back to school on Wedsday
we got some of her homework done tonight. She still has more to do. She
can't wait to tell me friends at school all about her trip. Off to bed
I go. Love April
~~~~~~~~~~~~~~~~~~~~~~~~~~~~~~~~~~~~~
Brendan Kizer
Today
was suppose to be 2nd dose of his new drug but, he is having some
issues with slight fever and high enzymes in his liver so they can't do
it. He had a Echo of his heart and that came out great , his kidneys
are doing really great. Our concern right at this point is some liver
situations that have to be ironed out. Being that I have such a
wonderful doctor at Chop Dr. Rheingold who keeps up with the cb and my
e-mail and manages to rest my mind for me which I appreciate so much
she has no idea.
The doctors here are just wonderful really and
all of the nurses , even tho I miss CHOP so much and all of the
wonderful people there too. I know and feel like I am in good hands. As
for Brendan's mood on all of this it's more like hey give me pain meds
and get this cancer out of me no matter what the heck you have to do.
Although
I have not had alot of sleep today I feel a bit better and able to cope
some what. Then again if you took a look at me I look like a Bull Frog
with big poked out eyes. His sugars are running low which they are
giving back to him and a few other lilttle things are off balance. They
really are thinking more of a sinus infection at this point. He just
got back from a cat scan and the Ear Nose & Throat doctors are
talking a look at that as we speak. I'll update with more details
later.
~~~~~~~~~~~~~~~~~~~~~~~~~~~~~~~~~~~~~
Blake LaForce
In
addition we have Blake sitting up in a special wheel chair. What a
relief this has to be for him to be out of that bed, no one seems to
know how to operate ; ' / at first. This is great theraphy. So he is
sitting up, with z-flow pillows supporting his head and arms, snoring
away. I took pictures. His storming has slowed and is less intensive as
he is chilling now. This is a relief for him, because he has to be so
exhausted. Picture yourself flexing your upper body muscles as hard as
you can for a full minute or more, then resting for another minute or
so than repeating this for hours!!! We are tired trying to keep his
arms/hands from messing up his central line dressing on his upper left
of his chest. He has amazing strength even now! Once he wants his arm
to go to a position, there is nothing much I can do to keep it from
gpoing there. Just another day of healing and rehab, as we try to hit
curve and knuckle balls.
Have a great evening.
~~~~~~~~~~~~~~~~~~~~~~~~~~~~~~~~~~~~~


Copyright © 2005 Prayer Warrior Network. All Rights Reserved
More Like This
There's no better vehicle to bring the family together than the Chevy Traverse. It's the ultimate family vehicle, and the inspiration behind the tales that these bloggers are sharing about those special moments spent with their families. Check out the posts to see just how different, and, in many ways, the same, family time is nowadays as compared to when the bloggers were younger.
Read more
Most Popular
on Spirituality
Recent Comments
on Spirituality