Chipotle Cinnamon Brownies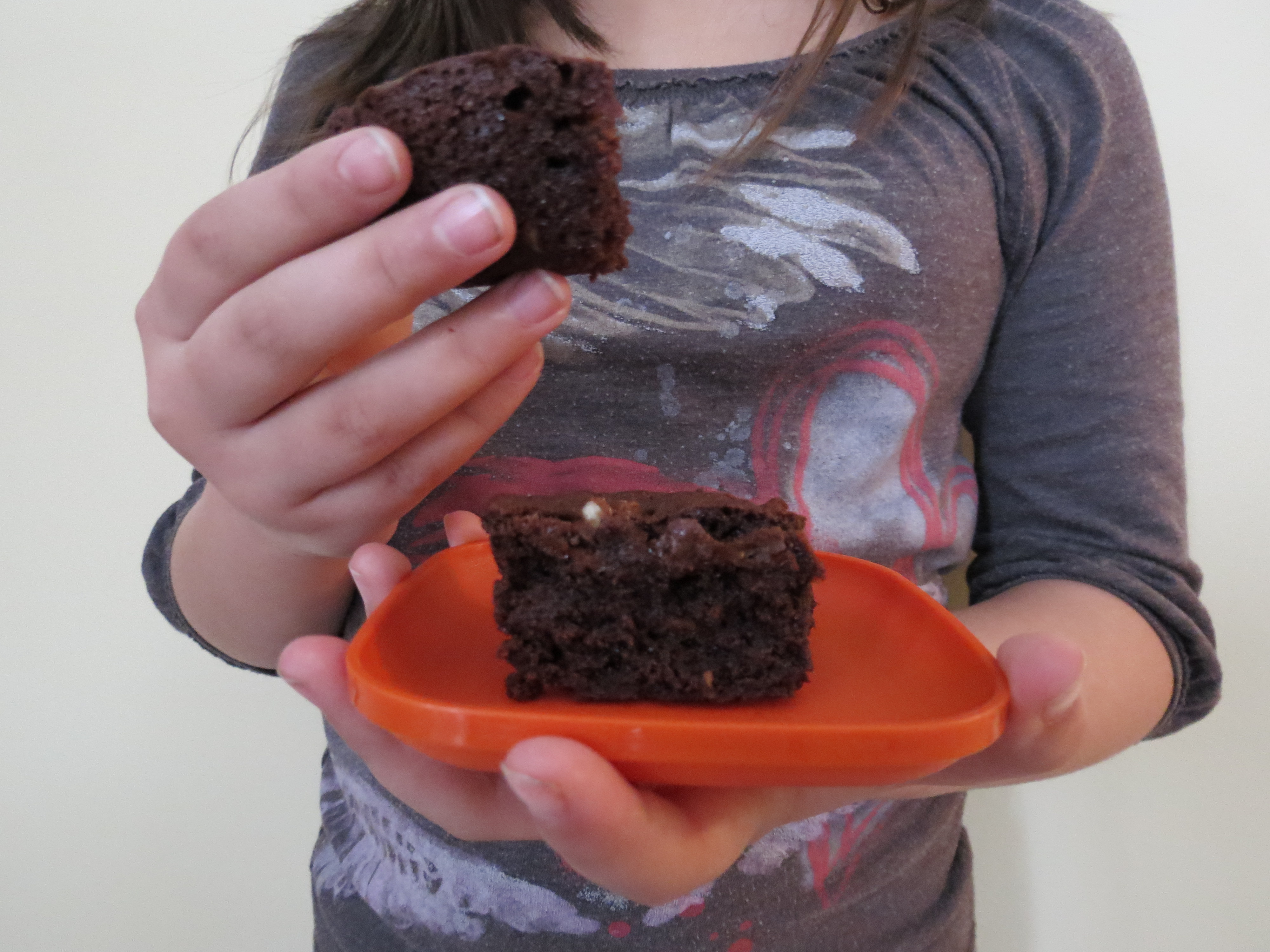 Confession time: I have eaten many, many brownies in my lifetime. I've also baked many batches as well. But, when I came across Pam Anderson's recipe, I was hooked. It was just as she promised in her recipe title: the perfect brownie.
What I also love about this recipe is that you make it in a square 8 inch pan, which makes just enough for a small snacking feast, but not so much that you have to freeze half the batch in order to make it last so that you can eat your way through it over a month (or, ahem, a particularly challenging or depressing week). Or otherwise just eat the whole thing and gain 5 pounds that week. I've done that. With ice cream. And, yes, I did gain weight. (You've been warned.)
Don't get me wrong, there is a place for party-sized brownies made in a large 9x13 pan, but I prefer being able to enjoy a variety of desserts on a regular basis (read: more than one type of dessert each week), and so smaller recipe sizes fit the bill for me.
I've adapted this recipe to include a bit of spice. When I shared this idea with friends, I got some weird faces, because spice you normally would find in a chili recipe doesn't sound like something you would put in a dessert, but hear me out. To taste is to believe, and all of my tasters loved this spice combination. It's subtle, and adds a gentle warmth to the brownies, almost deepening their chocolatey flavour, but in a smoky-savory kind of way.
My daughter ate these every day this week for her after school snack, with a tall glass of milk, and she loved them. So, if I can wow the grade three crowd, I'm sure I can win you over too! But you could easily make this without the spices, and it would still be sheer heaven. Meat and Tater Man said they were delish with his morning coffee.
The recipe claims that it makes 16 brownies, but my serving sizes tend to be larger (especially if there's chocolate in it), so I cut the brownies into 9 squares. No complaints yet.
2 oz unsweetened chocolate
10 tbsp (1 stick plus 2 tbsp) butter
2 tsp pure vanilla extract
¾ cup chopped walnuts, pecans, macadamia nuts or peanuts, toasted (optional)


Preheat the oven to 325F and set a rack in the lower-middle level. Spray an 8 inch square baking pan with non-stick cooking spray. Fit an 8x16 inch sheet of aluminium foil into the pan and up over two sides, so you can use the foil overhang as handles to pull the cooked brownie out of the pan. Spray the foil with cooking spray.


Whisk together the flour, salt, cinnamon, chipotle and baking powder in a small bowl. Set aside.
Melt the chocolates and butter in a medium bowl over a pan of simmering water (or in a double boiler). Remove from the heat and whisk in the sugar and vanilla. Whisk in the eggs one at a time, fully incorporating each one before adding the next. Continue to whisk until the mixture is completely smooth and glossy. Add the dry ingredients and whisk until just incorporated. Stir in the nuts, if using. I hope you've toasted them first.
Pour the batter into the prepared pan, smoothing the top. Bake 35-45 minutes, or until a cake tester or toothpick inserted in the centre comes out with wet crumbs. (Important: if the toothpick comes out clean, the brownies are overcooked.)
Cool the brownies in the pan on a wire rack for 5 minutes. Use the foil handles to pull the one big brownie out of the pan and turn it out on the rack upside down to cool completely, at least 3 hours.
Cut the brownie into squares and serve. If not serving immediately, wrap the whole brownie in plastic wrap, then aluminium foil, and refrigerate for up to 5 days or freeze for up to 2 months. I can't imagine why you wouldn't want to devour these right away, but you never know. I can't even let these cool completely without slicing into them to sample a slab or two.


Recent Posts
by thelitkitchen