Chocolate Cranberry Bliss Cookies
It wasn't too long ago I made some Cranberry Bliss Cookies that I dubbed my favourite cookies so far this year.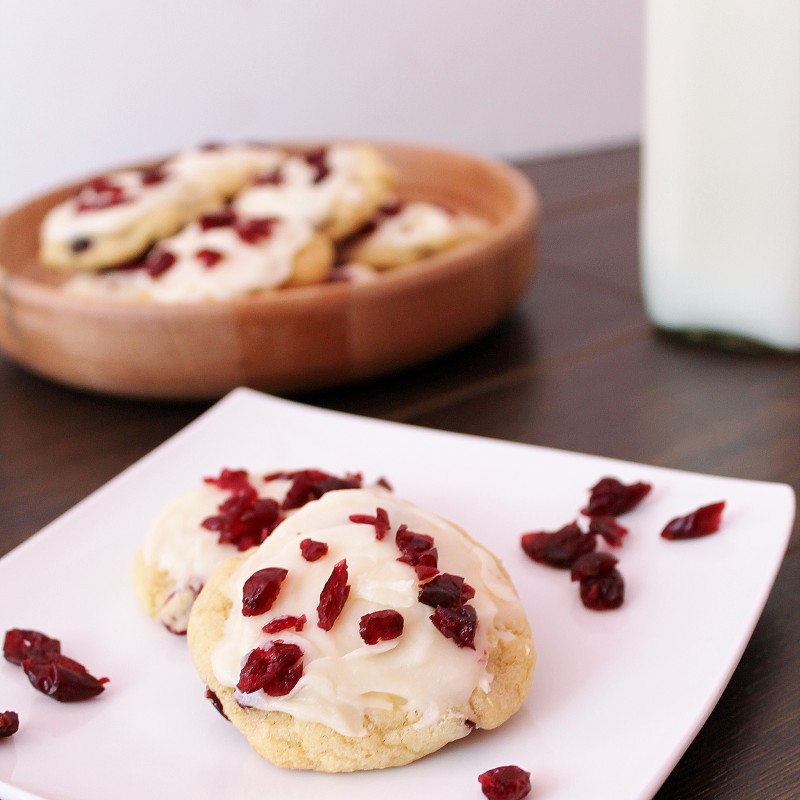 My parents were here this week so I wanted to make them again, but, finding myself with no white chocolate, I thought I was going to have to change my plans.
Enter my 4-year-old helper: "Mom, why don't we make them with cranberry and dark chocolate? And chocolate icing?"
My my, look who's full of good ideas today!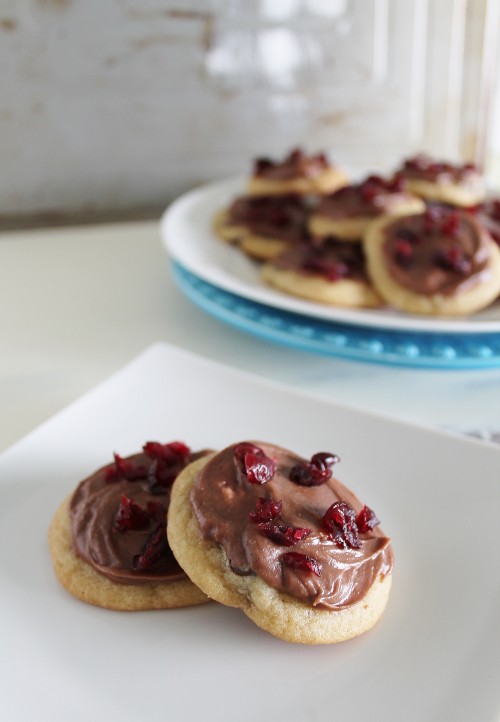 Not just a pretty face, that girlie - she was right on the mark. In fact, I might even like these better than those original Cranberry Bliss Cookies! I always prefer semi-sweet or dark chocolate over white chocolate, so I don't know why I didn't think of this idea myself, but I'm certainly glad someone around here was thinkin'.
These would be great with the best fudgy frosting you'll ever have, found on these brownies, but in keeping with the cranberry bliss theme I made a chocolate cream cheese frosting that will also rock your socks! We all loved these just as much as the original. The only other change I made was to add a 1/2 tsp of cornstarch to the cookie dough to make sure they stay soft and chewy even when eaten straight out of the fridge, which is where you want to store them due to the cream cheese frosting.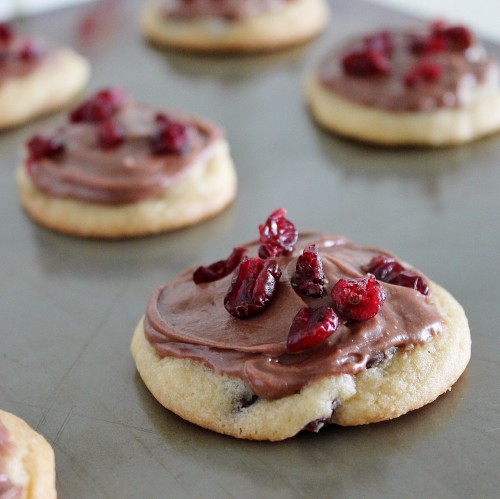 Can you all try these and the original version and tell me what ones you like better? I'd be much obliged :)
Chocolate Cranberry Bliss Cookies
Prep time: 30 mins
Cook time: 10 mins
Total time: 40 mins
Ingredients
COOKIES:
3 cups all purpose flour
1 tsp baking soda
1/2 tsp cornstarch
1 tsp salt
1 cup butter, softened
1 cup granulated sugar
1 cup packed brown sugar
2 eggs
2 tsp. vanilla extract
¾ cup semi-sweet or dark chocolate chips
¾ cup dried cranberries
FROSTING:
1/4 cup semi-sweet or dark chocolate chips
4 oz (1/2 pkg) cream cheese, room temperature
1/8 cup cocoa powder
1/2 tsp. vanilla extract
1 tsp water
3 cups powdered sugar (aka confectioner's sugar/icing sugar)
TOPPING:
1 cup dried cranberries, roughly chopped
Instructions
In a medium bowl, whisk together flour, baking soda, cornstarch, and salt. Set aside.
In a large bowl, beat the butter and sugars on medium-high speed until light and fluffy, about 2 minutes. Add the eggs one at a time, beating after each addition. Beat in the vanilla.
Reduce speed to low and slowly add in the dry ingredients. Beat until well-combined. Stir in the white chocolate chips and cranberries.
Place dough in the fridge for about 10 minutes while your oven heats up. (You can leave it longer if you want – 10 minutes is about my patience max :))
Preheat oven to 350 degrees F (175 degrees C). Line a baking sheet with parchment paper or grease lightly.
Place dough by rounded tablespoonfuls onto prepared baking sheet, at least 2 inches apart. Bake for 9-11 minutes, until the cookies are lightly golden only around the edges. Remove pan, let sit 1 minute, and transfer the cookies to a cooling rack until cool. Repeat with remaining dough until all cookies are baked. Wait until cookies reach room temperature before adding frosting.
FROSTING:
Melt chocolate in the microwave in a small bowl, heating for 30 seconds, then stirring and heating in additional 10 second increments until almost completely melted. Stir until melted completely. Set aside.
Using an electric mixer on medium speed, beat together the cream cheese and cocoa until combined. Add melted chocolate and blend well.
Reduce speed to low and add the powdered sugar, vanilla and water. Mix until incorporated, adding more powdered sugar or water if necessary to reach desired spreading consistency.
Spread the frosting on the cooled cookies. Immediately sprinkle the frosted cookies with the chopped dried cranberries.
Store iced cookies in the fridge or freezer. To thaw from frozen, put frozen cookies in the fridge.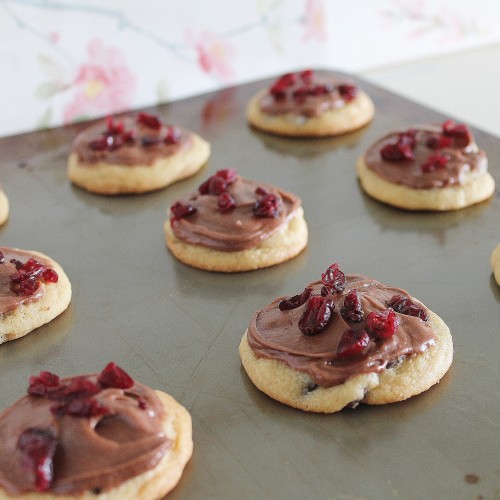 *Recipe adapted from my Cranberry Bliss Cookies, originally adapted from Gimme Some Oven.
Recent Posts
by hiddenponies