Christian Nymphos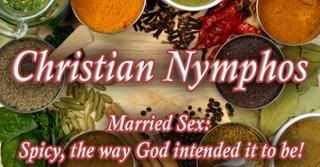 We are here to say to women everywhere:
"Be fully released to embrace all that God wants for your marriage! Ignite that intimacy with your husband, and grow in Christ together!
Witness to others about Jesus, and at the same time, let them see you
as a healthy, strong, happily married woman. Be a role model to other
young women who need someone to look up to and talk to. Instruct them
on marriage and don't shy away from sexual questions they have. Young
women need experienced women to talk to and get sound, Christian advice
from. Let us honor God by showing these women what He wants for them in
marriage!"
That is why we started this website. To minister and fellowship with
other married women. Our site was created with a target audience of
married women ages 18 – 99. If you are a married, or soon to be married
woman, then we encourage you to browse through our categories and make
yourself at home here.
Just know that we speak from the heart. We write honestly and in
some cases, bluntly. We are not embarrassed or ashamed to talk about
what the Lord has done in our lives, including our marriage beds. We
hope you bookmark us and come back to see us regularly!