The City Quilter, NYC
Third in a series of Five NYC posts.
Fabric arts stores ooze posibilities...
...just like a new legal pad and freshly sharpened pencils waiting to write an anticipated manuscript. The Universal Law of Possibilities decrees there are no limits to genius when proper supplies are purchased. It's true. All that's needed is quality supplies.
Surely, inspiration and perspiration follow. Or not.
But, the inert possibilities of the supplies are not depleted whether the project ends up as a magazine article, on the wall of a gallery or in storage at the bottom of the closet. Err, therefore, on the side of caution and buy lots! More supplies equal more possibilities. More fabric equals more possible quilts!
What fun! When you shop at a quilt store, you are shopping for possibilities.
The City Quilter in New York City's Chelsea District
is a wonderful source for fabric art supplies.
When we last left our Sunbonneted heroine, she was in New York City for a BlogHer Friday meeting on March 23, 2012.
Spending the night near the Garment District in Chelsea, I happened upon a quilt shop directly across from my hotel on West 25th Street. Finding my hotel room, running from the elevator, throwing my "travel wardrobe" onto the bed and then zooming back downstairs to go out into the street like a lunatic, I was on my way to The City Quilter quilt store.
But, first! I had to run down West 25th street, *pant, pant, pant,* to take photos of green foil shamrock balloons left over from St. Patrick's Day, tangled in a tree on 6th Avenue, or the Avenue of the Americas.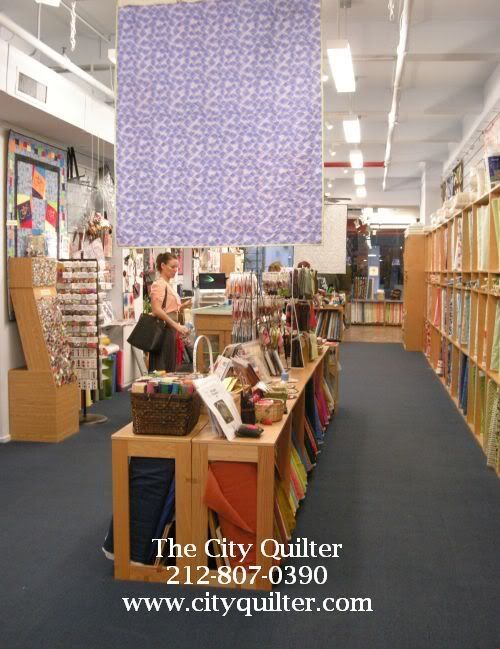 Walking through the front door of The City Quilter,
this is what you see, color, selection and order.
I had seen the green shamrocks out the window of the taxi as we did "ring around the blockies" following the one way street signs to get me to the hotel. The same traffic engineers that plan Washington, D.C. also plan New York City, in that they see no need to have traffic flowing in two directions on any one street. By making every other street go one way and every other street go the other way, the streets are cleared of sanity and confusion reigns. You know you're in a big city; nothing makes sense and the natives are assured you'll be glad to leave soon, once you've spent your money.
Everybody who's driving works together to get mad and honks their horn creating a cityscape, so you know you're in NYC. I did what I could to jaywalk, annoying cab drivers while doing my part to add to the festivities. Soon, I was walking back up the street toward the hotel and quilt shop, after photographing the shamrock balloons.
The colors, the choices, the selections of notions,
patterns and books were overwhelming.
So, now there was no holding me back. I was free to fabric shop! First, I took a nice photo of the side of The ArtQuilt Gallery-NYC, the gallery devoted to quilted fabric art in the space next to The City Quilter. The City Quilter complex includes what I guess were originally two retail store fronts. The stores have been connected and The City Quilter occupies about one and a half stores, while The ArtQuilt Gallery commands the space of half a store, with it's own separate storefront and awning. I love the vivid red awnings, by the way, which set the up tone for my visit.
The bright red awnings against New York's gray concrete provide startling visual contrast. In fact, as one of the Managers/Owners of The City Quilter's Cathy Izzo, comments, "We provide a respite from the gray city and the intense days so many of our customers experience." The bright red awnings hold lofty testament to that claim, as do the colorful fabrics lining all of the walls of the shop itself. Color and light beautifully define The City Quilter, a quilt shop honored on their 10th Anniversary in 2007 by the Council of the City of New York, as being recognized by Quilt Sampler Magazine as a Top Ten quilt shop in North America.

Specialty fabrics, designed and manufactured by
The City Quilter and its fabric artists, are sold by
the yard and housed in bolt cases at the front.
The City Quilter is a highly proclaimed retail quilting supply store and Internet sales mail order business that has been profiled by The New York Times in a great article about how the establishment indulges the "quilter within." Founded by a married couple, Cathy Izzo and Dale Riehl, in 1997, the shop has outgrown its original space, moved, begun printing their own line of fabrics and recently, opened a gallery devoted to the display of museum quality quilted art. It's a destination for quilters from around the world.
It's very unusual for a quilt shop to print their own specialty fabrics, but being right in the Garment District, what would one expect? In fact, I was so impressed by the selection of fabrics, I took lots of photos, originally for myself. But! There's been so much BlogHer interest in The City Quilter fabrics, I decided to create a separate fabric post to share some of the current selections. Coming next as #4 in the NYC series.

Every store vista includes fabric bolts,
notions and accessories.
The City Quilter appointments are fun and exciting as there is so much to look at and enjoy as one travels from one delight to another. The most intriguing things I saw were rolls of Laminated Fabrics, protective coating over cotton fabric that can be made into stylish raincoats, waterproof tote bags and many other projects.
One of the cutting tables for fabrics sold by the yard.
I love the colors and teaching displays in this photo.
Doesn't it look cozy? Talk about possibilities!
It felt cozy to me in The City Quilter as, being a quilter, I feel at home anywhere there is a good line of 100% cotton fabric. But, in addition to the contrast of New York's hustle-bustle with the time honored quilted bed coverings and clothing, there was an intense mixture of the two which seemed to create a third layer of "urban quilting." Sophisticated fabrics and patterns were combined in and among more traditional calico cottons in both the stock of fabric on bolts and in the plentiful array of shop models.
I learned that in New York, all sorts of fabric enthusiasts shop for exotic lines of fabrics, including hand dyed fabrics, such as batiks, in addition to tried and true quilter's calicoes. Dale Riehl, Cathy Izzo's business partner and husband, explained that customers range from instructors at the Fashion Institute of Technology, F.I.T., right up the street, to costume designers for the Metropolitan Opera and Broadway productions, in addition to the legions of quilting fans that travel great distances to visit.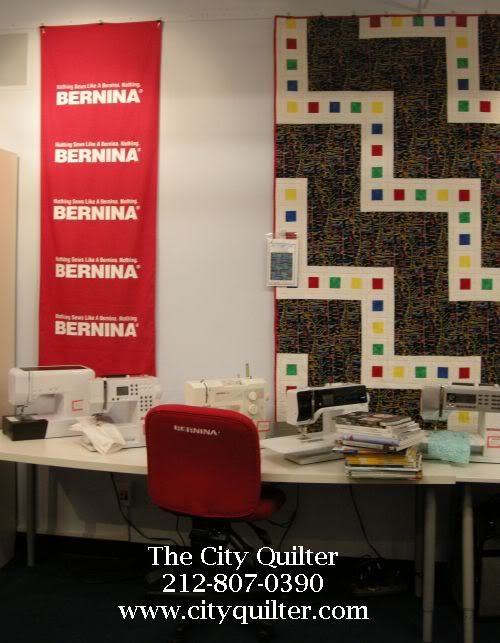 The City Quilter has a full Bernina Sewing Machine area
and provides machines to all students in their classes
The City Quilter sells and supports Bernina and Bernette sewing machines. Recently, a new Bernina Club has been started to allow Bernina owners to learn together in a relaxed atmosphere, getting full use of their marvelous Bernina and Bernette sewing machines. The City Quilter is listed as a Bernina Excellence Dealer on the Bernina USA web site:
"The BERNINA Excellence Partner program recognizes dealers who provide superior customer service and support through a combination of excellent product knowledge, innovative programs and education. Dealers who meet our rigorous criteria have shown their dedication and are proudly identified in our dealer locator listings."
Quilt shop model in the photo above is from the "Just the Right Angle" pattern.
Well designed and executed shop models
easily get the creative juices flowing.
A bountiful listing of seasonal classes is a sure draw to those who love fabric art and want to step up their skills. The City Quilter has exceptional class options for all levels of accomplishment. Well recognized for their class selections and qualified teachers, New York Magazine has identified their classes as "The Best in New York:"
"Quilting may not yet be the new knitting, but it appears to be headed that way. The City Quilter's eight-week Basic Patchwork and Quilting by Hand courses are already packed, and with good reason: Students come in not knowing how to sew and leave with a block of stitched-together fabric or even an entire quilt-top. Each week in the store's back room, a motley crew of actors, doctors, lawyers, and stay-at-home moms looking for a way to relax or kill downtime gather to sew and chat. They come away with yet another tool for managing the inexplicable delays of a New York day, at restaurants, in the subway, or on airplanes."
Peeking at The City Quilter's FaceBook page shows the "fun and feel good" of shared learning experiences and the gallery photos show the variety of lessons available. For Winter & Spring 2012 classes, click here, For Summer 2012 classes, click here.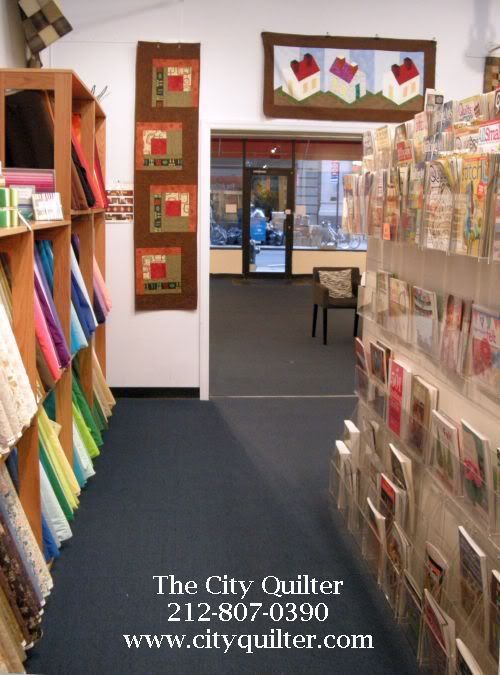 The final treasure room of The City Quilter
leads to The ArtQuilt Gallery, NYC.
Passing by, yet MORE fabric, and a final, massive display rack of books, I walked from the store toward The ArtQuilt Gallery, NYC, the quilt gallery connected to The City Quilter. The book rack was massive and stood from the floor to above my head. There was a "NEW" section, featuring new arrivals and the books were so colorful and gorgeous, it was all I could do not to pick up an armful.
The ArtQuilt Gallery was a finely crafted museum space, setting off the current show to best advantage, and what a wonderful show it was. But, dear BlogHer, you are going to have to wait to hear about this show, because I'm not writing about it here, but as the fifth and final post in the NYC series.
See you then!
April 13 Poem
The City Quilter

Squarely in the Garment District
The City Quilter stands.
The store, a mighty draw it be
To all creating hands.
And, the fabric on the lengthy shelves
Travels far to distant lands.
With sincere apologies to
Henry Wadsworth Longfellow
and The Village Blacksmith
SunbonnetSmart.com is authored by a little bird who loves to lure unsuspecting BlogHer bloggers to her web site.
Follow BlogHer on LinkedIn: http://www.linkedin.com/groups/BlogHer-28615
Related Posts
Recent Posts
by SunbonnetSmart.com
100% fruit in a portable, resealable pouch so parents can keep going knowing their kids can enjoy a healthy yet delicious snack whenever, wherever. See why our bloggers choose GoGo squeeZ and why their kids love the delicious taste!
Read more
Recent Comments
on Crafts