Coconut Chocolate Chip Cookies with Walnuts
Homemade cookies are always so good when freshly baked. The whole house smells wonderful when baking, and cookies are no exception to that rule. That's one of things I like best about baking a fresh batch of homemade cookies. I did this more often when my children were young, but they are grown now. Still, once in a while, I will bake some homemade cookies, and one of my favorite recipes is one that came from two different recipes I had used over the years. Both recipes had things I loved, so I took what I liked best from both, changed what I didn't like, added another ingredient I liked but neither recipe had, and came up with a whole new recipe, my Coconut Chocolate Chip Cookies with Walnuts.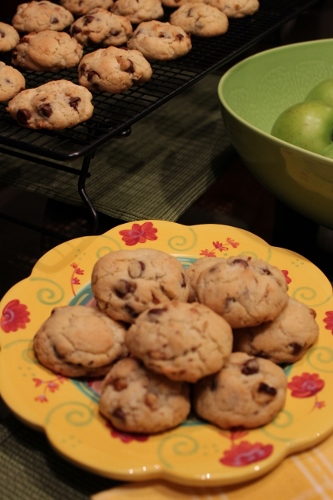 Image: Courtesy of Jodee Weiland
In my recipe, I adjusted ingredients to my preferences for a cookie. Although my recipe is sweet, it is not overly sweet.
Read more at Learn from yesterday, live for today...
Enjoy,
Jodee Weiland
Comments
More Like This
Recent Posts
by Jodee Weiland
Lean Cuisine believes that women should be valued for their accomplishments as opposed to their weight/appearance. Lean Cuisine's new brand campaign Feed Your PhenomenalTM reflects its new brand purpose: to feed the greatness in every woman. Check out our bloggers' posts and see how they measure their true worth plus learn how you could win a $100.
Read more
Recent Comments
on Baking