Cosmic Cashew Kale and Chickpeas with Confetti Quinoa from Fat Free Vegan Kitchen
BlogHer Original Post
There's no doubt that it was partly the name that drew me to this recipe; well that and Susan's gorgeous photo. But once I got reading the ingredients, I realized that not only is this recipe bursting with nutrition, it also sounded delicious. Onion, red bell pepper, chickpeas, and kale are sauteed, then combined with a vegan cashew sauce and served over colorful quinoa. I like all those ingredients and this sounds great to me!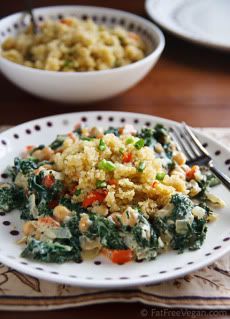 Photo of Cosmic Cashew Kale and Chickpeas with Confetti Quinoa
from Fat Free Vegan Kitchen
Get the recipe for Cosmic Cashew Kale and Chickpeas with Confetti Quinoa from Fat Free Vegan Kitchen.
Have you made something interesting for Meatless Monday this week? If so please share the recipe link or your recipe in the comments. You can find more Meatless Monday recipes by clicking the tag Meatless Mondays.
BlogHer Contributing Editor Kalyn Denny also blogs at Kalyn's Kitchen, where she specializes in low-glycemic recipes using fresh ingredients. Kalyn probably won't ever be a vegetarian, but she does love to make meatless dishes such as Lebanese Lentil Salad with Garlic, Cumin, Mint, and Parsley.
Recent Posts
by Kalyn Denny
Our bloggers include LISTERINE Antiseptic in their regular oral health routine. See why and get a chance to win $100.
Read more
Most Popular
on Vegetarian and Vegan
Recent Comments
on Vegetarian and Vegan