Costa Rica Series: San Jose
If you have just somehow magically found this post, you might want to start at the beginning.
That being said, here we are at beautiful San Jose! Or really, here we are at this gross city in the middle of this beautiful green country. Yaaaay.
We saw several places during this trip, San Jose, the volcano at La Fortuna, the cloud forest in Monteverde, the beaches of Quepos and Puerto Viejo, but we stopped in San Jose at the beginning, middle and end of our trip. We didn't spend a whole lot of time in city. It was more of a "filling station," a place where we prepared for the other towns we visited. The hotel where we stayed, Hotel Dona Ines, let us store luggage while we traveled in other parts of the country. Because we stopped back in San Jose during the middle of the trip, we were able to switch out clothes and so forth, although looking back, none of us needed as much as we brought.
This is the "view" from the front porch of the Hotel Dona Ines. Nothing spectacular, although we spent a lot of time hanging out there at night, watching people walk by. In one of my journal entries from this trip, I referred to this porch as a "window to the world" because no one noticed us, they just kept on walking, going about their business.
We did a few educational things while in San Jose. Because this was, after all, a class geared toward teachers, we spoke with a professor at Universidad Internacional de Las Americas, which is a prestigious school in Costa Rica despite the eighties into music to their website. (Edit: Universidad Internacional de Las Americas MUST have found my comment here and immediately updated their website to not contain eighties intro music. That must be the case as to why it's no longer there.)
I couldn't really tell you what we talked about now, but lets assume it was captivating. What I do remember about that day is the actual school, all the students that were sitting outside eating, studying and just talking. It looked a college campus, but one that you see in a movie during a "walking to class" montage. This professor took us all to lunch, under the premise of showing us what a lunch meeting would be like in Costa Rica. The place we went looked small, cute and local, but was not a place I would have gone on my own. The food was amazing, I just never would have found it. I don't think there was any signage.
There were two lessons I learned in Costa Rica. The first, you can't wait for the rain. It's just going to rain there, suddenly. It might rain for five minutes or two hours, so you can't just wait it out. People stand around in the street and sell umbrellas for two dollars when it's not raining, twenty dollars when it is (they do this in Paris too, it turns out). If you don't have an umbrella, you know what else is handy? Trash bags.
It would probably also be useful if this picture wasn't all blurry, but I still like it. What's not to like about seven Americans wearing trash bags after leaving a nice restaurant? Although, it looks more like someone's home patio.
The second lesson I learned was about money. five U.S. dollars is about twenty five thousand CR colones. If I remember correctly, the bills are in thousands. For example, someone might say, "Do you have two thousand colones?" And you might say yes, and hand them a bill. one thousand, five thousand, ten thousand... all types of bills. The exchange rate is just off enough for people to rip you off if you use U.S. dollars, so we went to the bank to exchange our money. This is where I encountered my problem with the best money belt in the world.
It really works well, so well that I couldn't get money out myself unless I went to the restroom. Are you curious? Okay, fine. I tell you. It's panty hose. you take a pair of panty hose and cut the legs off. Stick your money in the leg part, tie it low around your waist, under your pants and forget about it. No more embarrassing money belt necklaces or fanny packs (I never really wore those anyway). It is not easily accessible, but if it is just for emergency money and a copy of your passport, it doesn't need to be. But make sure you go to the restroom if you need to get something out of it because it is not appropriate to dig around in your pants in public places, like Costa Rican banks without public restrooms. Guards holding machine guns might look at you funny.
Actually, if I think about it, there was another lesson I learned in San Jose. It's that no matter what I do, I will never have a good spanish accent. I spent hours looking for dominoes at souvenir shops so we could play on our trip. Did I know the spanish word for dominoes? No, but I figured it couldn't be that difficult to figure out or pantomime. I went to so many stores, asking, "Tiene dominos? Tienan dominos?" No one understood me. I didn't find any until we stopped in San Jose the second time, mid trip.
Do you know what the Spanish word for dominoes is? It's dominoes. People just couldn't understand my accent.
The most fascinating thing about San Jose is that you could really see what "protesting" means in the country. Take this statue. Some one graffitied it with a quote from Ghandi about tolerance. It reads "First they ignore you, then they laugh at you, then they fight you, then you win." I think that's about tolerance. Anyway, in The States, you might see graffiti of people's names, or just plain junk. In Costa Rica, it's quotes from Ghandi. There is a better picture here.
Acording to this article from The Costa Rica News, there is politically motivated graffiti all over the city. This one is my favorite found on the story webpage. It reads "Everyone is born wonderfully different."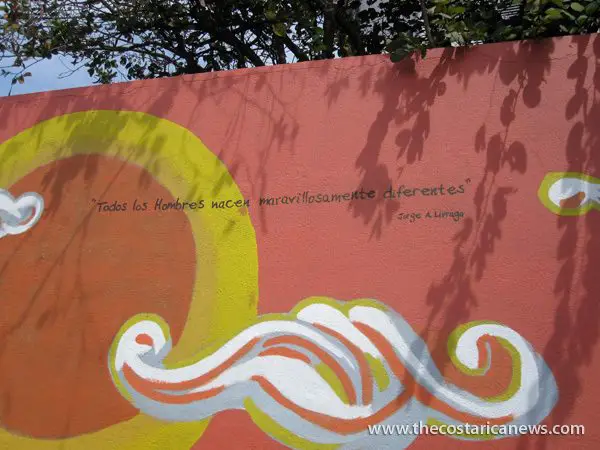 This other image was taken by photojournalist Manoocher Deghati of Costa Rican school girls protesting the high number of trafic accidents in 1991. It is really moving.
And, for now, that's all I have to say about San Jose. I will probably include more information about the city in the post about Cafe Britt, which will be at the end of the series. I hope you've enjoyed it!
ADD A COMMENT
Recent Posts
by stokleyblevins
Most Popular
Our bloggers chose Lucky Brand for its fit, comfort and unique details and finishes. Read more on the latest styles plus get a chance to win $100.
Read more
Embassy Suites by Hilton is a brand within the Hilton Worldwide portfolio that promises to provide what really matters most to the savvy guest. Our bloggers took a family getaway to experience Embassy Suites by Hilton. See everything they had to say and comment for your chance to win $100!
Read more