Countdown to Affordable Health Insurance
Featured Member Post
By Sec. Kathleen Sebelius
Secretary of Health and Human Services
We're starting an important countdown, first to October 1, 2013, when many of you will be able to begin to shop for health insurance that meets your needs at the new Health Insurance Marketplace at HealthCare.gov.
The countdown continues on to January 1, 2014, the start of new health insurance coverage for millions of Americans.
This is an historic time for those Americans who never had health insurance, who had to go without insurance after losing a job or becoming sick, or who had been turned down because of a pre-existing condition. Because of these new marketplaces established under the Affordable Care Act, millions of Americans will have new access to affordable health insurance coverage.
Over the last two years, we've worked closely with states to begin building their health insurance marketplaces, also known as Exchanges, so that families and small-business owners will be able to get accurate information to make apples-to-apples comparisons of private insurance plans.
That is why we are so excited about launching the newly rebuilt HealthCare.gov website, where you'll be able to buy insurance from qualified private health plans and check if you are eligible for financial assistance -- all in one place, with a single application. Many individuals and families will be eligible for a new kind of tax credit to help lower their premium costs. If your state is running its own Marketplace, HealthCare.gov will make sure you get to the right place.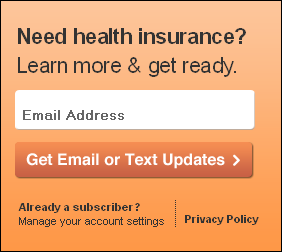 The Marketplace will offer much more than any health insurance website you've used before. Insurers will compete for your business on a level playing field, with no hidden costs or misleading fine print.

It's not too soon to check out HealthCare.gov for new information about the Marketplace and tips for things you can do now to prepare for enrollment.
And, make sure to sign up for emails or text message updates, so you don't miss a thing when it's time to enroll.
There is still work to be done to make sure the insurance market works for families and small businesses. But, for millions of Americans, the time for having the affordable, quality health care coverage, security, and peace of mind they need and deserve is finally within sight.
A version of this article was originally posted on HealthCare.gov on January 16, 2013.
Related Posts
More Like This
Recent Posts
by HHSNewMedia
Sparkling ICE is a bold flavored sparkling water that truly delivers on taste and contains just the right amount of fizz. Read our bloggers' posts and get more details on how you can enter the Flavor Face Off plus find out more about the delicious flavors that Sparkling ICE has to offer.
Read more
Aquafresh Reviews
Aquafresh® toothpaste helps protects tooth enamel from damage caused by sugar acids and also helps protect your teeth against cavities. What's your favorite way to take care of your teeth on the go this spring? Comment on the posts for a chance to win a $100 VISA gift card.
Recent Comments
on Health